The 2023 BMW M4 CSL is a track-focused variant of the M4, created and engineered for high-performance driving on a racetrack. This is accomplished by improvements that improve the vehicle's handling, braking, and acceleration. Changes may be made to the vehicle's suspension, brakes, tires, aerodynamics, and powerplant.
The 2023 M4 CSL has 40 more horsepower than the M4 Competition, indicating that its engine is more potent and capable of producing more power and torque. This can offer the vehicle an advantage on the track in terms of acceleration and top speed. Increased horsepower can also make a vehicle feel more responsive and enhance the driving experience.
The M4 CSL has eliminated the rear seats and added lightweight components such as carbon-fiber bucket seats and a titanium exhaust system in order to save weight. These modifications help reduce the car's overall weight, which can improve its acceleration, braking, and handling.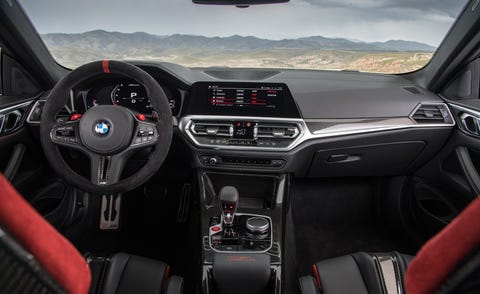 A lighter automobile will use less power to accelerate, be more agile and responsive, and brake more effectively. Additionally, the top, hood, and trunk lid of the M4 CSL are made of carbon fiber, which helps to minimize weight. Carbon fiber is a strong and lightweight material that is frequently used to reduce weight and increase performance in high-performance sports automobiles.
The 2023 M4 CSL has a lower ride height than other variants of the M4, so it sits closer to the ground. This can improve the vehicle's stability and handling, especially at high speeds on a racetrack. An automobile with a lower center of gravity can seem more secure and grounded, making it easier to turn and brake at high speeds. Additionally, the M4 CSL has a more robust chassis, which enhances its stability and handling.
A more rigid chassis can reduce flex and enhance the vehicle's capacity to hold its shape under load, so enhancing its handling and stability. Additionally, the M4 CSL is equipped with a track-tuned adaptive suspension engineered to optimize performance on a racetrack. A car's handling and stability on the track can be enhanced with an adaptive suspension, which allows the driver to alter the suspension settings to fit varying road conditions.
The M4 CSL's traction control system has been designed exclusively for high-performance driving on the track. This technology helps optimize traction and enhance cornering stability at high speeds. Traction control is an electrical system that monitors the wheels and reduces power to the wheels if it detects a loss of traction. This can prevent the vehicle from slipping or losing control, which is especially useful when driving on a racetrack.
The M4 CSL is equipped with ultrahigh-performance tires that are designed to deliver maximum track grip and handling. Ultra-high-performance tires are typically constructed from a harder substance than standard tires, allowing them to retain their shape and traction at high speeds. In addition, they have a more aggressive tread pattern, which aids in traction and control on the track.
The M4 CSL's electronically adjustable exhaust system enables the driver to personalize the exhaust note and increase the exhaust volume. Adjustable exhaust systems can provide a more aggressive and dynamic tone to the vehicle, so enhancing the driving experience.
The M4 CSL is limited to just one thousand units worldwide, making it a rare and exclusive automobile. This may increase its desirability among collectors and enthusiasts seeking a distinctive and highly-capable sports car. Due to their rarity and exclusivity, limited edition vehicles are frequently sought after, and the M4 CSL's limited production run may make it more appealing to buyers seeking something unique.
The M4 CSL's starting price of $140,895 is substantially higher than the normal M4's starting price. Due to the car's specialized components and features, as well as its restricted production run, it is exceedingly rare. The M4 CSL is fitted with a variety of high-performance components and features that enhance its track-focused characteristics, including lightweight carbon fiber bucket seats, a titanium exhaust system, and ultra-performance tires. These characteristics contribute to the car's higher price and assist to justify it.
A test team has awarded the M4 CSL with an Expert Rating, which represents their in-depth study of the vehicle's performance and technology. This grade can provide prospective purchasers with a sense of the vehicle's capabilities and assist them in making an informed purchase decision.
The Expert Rating is determined by a variety of characteristics, such as the vehicle's acceleration, braking, handling, ride comfort, interior and external design, and technological features. Overall, the M4 CSL is a high-performance sports car with a variety of modifications and additions that increase its track-focused capabilities, making it an attractive option for enthusiasts seeking a vehicle capable of delivering great performance on the racetrack.
The M4's impressive acceleration is a result of its powerful engine options. Depending on the model, the M4 is available with either a 3.0-liter inline-six or a 4.4-liter V8 engine, both of which provide outstanding acceleration. The inline-six engine generates 473 horsepower and 406 lb-ft of torque, while the V8 engine generates 503 horsepower and 479 lb-ft of torque. Both engines are combined with an automated transmission with eight gears.
It has a lot of possible modifications for the driver to fine-tune its maneuverability. The M4 has a sport suspension and an adaptable M suspension, which contributes to its sharp and accurate handling. Through the M Drive system, the driver can also modify numerous parameters, including suspension firmness, steering weight, and stability control. This lets the driver adjust the vehicle's handling to their liking.
The M4 has a larger rear passenger and baggage room than the majority of its rivals. The M4 is a four-seater coupe, and while it may not have as much rear passenger capacity as a sedan, it offers more space than a majority of other sports coupes. It also has a larger trunk than its competitors, with 13 cubic feet of space.
The steering of the M4 has been criticized by several critics for lacking road feel. A typical criticism of the M4 is that its steering does not provide sufficient input or road feel. This might make it difficult for the driver to evaluate the vehicle's behavior, particularly while driving aggressively.
The M4's drive settings can be difficult to navigate due to their complexity. The M Drive system permits the driver to alter numerous parameters, such as suspension stiffness, steering weight, and stability control. With too many settings and submenus, some reviewers have deemed the system to be needlessly complicated and difficult to use.
The design of the M4's grille is contentious, with some individuals finding it appealing and others not. Large vertical slats and a dramatic, forward-leaning aspect characterize the grille of the BMW M4. Some individuals appreciate this design to be forceful and sporty, while others believe it to be excessive and divisive.
For the current model year, a limited-edition, track-focused M4 CSL has been added to the lineup. The M4 CSL (short for "Coupe Sport Light") is a limited-edition vehicle intended for usage on the racetrack. It boasts a more powerful engine, a carbon fiber lid and hood, and a reworked suspension, among other performance enhancements. It is only available for a certain time period and in extremely small amounts.
A new infotainment system with a larger center display has been added to the M4. Updated for the current model year, the M4's infotainment system now boasts a larger central display. This display provides access to a variety of functions, including the navigation system, music controls, and vehicle settings.
No longer included in the Executive package are gesture controls. The Executive package was originally offered on the M4 and includes a panoramic moonroof, a head-up display, and gesture controls, among other premium features. However, the package no longer contains gesture controls for the current year.
The M4 belongs to the second generation of the BMW 4 Series, which debuted in 2021. The M4 is a member of the 4 Series lineup of luxury sports coupes and convertibles, which includes the 4 Series.