The Ford Fiesta 1.0 EcoBoost ST-Line X, priced at 26,650 euros, was subjected to a test consumption evaluation. The evaluation included various aspects such as fuel consumption and maintenance costs.
In terms of design, the facelifted Fiesta features minor updates at the front and rear, along with new color options and wheel designs. Notably, the standard LED headlights now offer matrix functions, allowing for adaptive and glare-free permanent high beams, albeit at an additional cost of 950 euros. The infotainment system has been reorganized on an eight-inch touchscreen, and the instruments are displayed digitally on a screen. However, the speedometer scale only includes the numbers zero and 240, which are seldom used.
One safety enhancement in the Fiesta is the reminder feature that alerts drivers to ensure they don't inadvertently leave children or elderly passengers behind when vacating the vehicle. The rear-seat passengers may be particularly eager to exit due to the limited space in the back, as the Fiesta remains constrained in terms of passenger room. Additionally, the article does not provide information on fuel and maintenance costs.
Regarding fuel consumption, the official WLTP rating for the Fiesta 1.0 EcoBoost ST-Line X is 5.0 liters of Super fuel per 100 kilometers. However, in real-world conditions, the test determined an average consumption of 6.4 liters, resulting in fuel costs of 11.97 euros per 100 kilometers.
The Eco lap, designed for fuel efficiency, achieved a consumption of 5.1 liters, while the commuter route recorded a consumption of 6.4 liters. Driving the Fiesta in a sporty manner increased consumption to 8.0 liters. The fuel cost calculations are based on the current fuel prices from the partner portal more-fuel, as of October 20, 2022 (Super fuel: 1.87 euros per liter).
The test consumption consists of three segments: the commuter round (70%), the Eco lap (15%), and the sporty driving lap (15%). When driven in an eco-friendly manner, the fuel costs per 100 kilometers are reduced to 9.54 euros, while driving in a more spirited fashion increased the costs to 14.96 euros.
The annual vehicle tax for the Ford Fiesta is 58 euros, and the liability insurance amounts to 425 euros. Additional costs include 128 euros for partial coverage and 514 euros for comprehensive coverage. The monthly maintenance costs are estimated at 254 euros for driving 15,000 kilometers per year. Doubling the mileage raises the maintenance costs to 456 euros. Depreciation costs were not considered in this calculation.
In conclusion, the Ford Fiesta 1.0 EcoBoost ST-Line X achieved an average fuel consumption of 6.4 liters of Super fuel per 100 kilometers in the test. This equates to fuel costs of 11.97 euros over the same distance. The estimated monthly maintenance costs amount to 254 euros for driving 15,000 kilometers annually or 456 euros for 30,000 kilometers annually.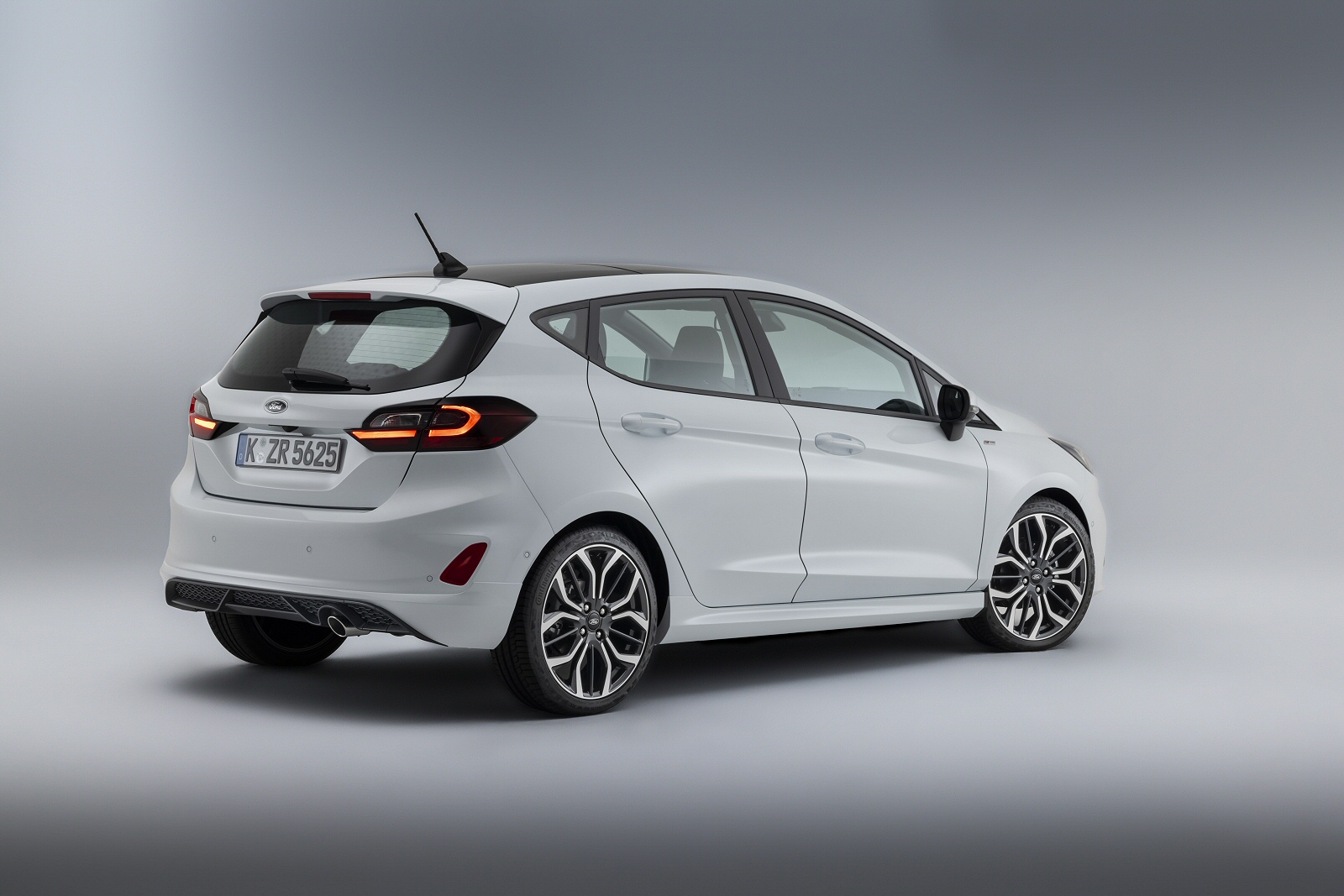 Technical specifications
| | |
| --- | --- |
| | Ford Fiesta 1.0 EcoBoost Hybrid ST-LINE X |
| Basic price | €27,650 |
| External dimensions | 4069x1735x1484mm |
| Trunk volume | 292 to 1093L |
| Displacement / engine | 999 cm³ / 3 cylinder |
| Performance | 92 kW / 125 hp at 6000 pm |
| Top speed | 200km/h |
| 0-100km/h | 10.1s |
| Test consumption | 6.4L/100km |