Mazda has introduced a facelift for the Mazda 2, a small car model. The updated version was initially launched in the domestic market in January 2023 and is now set to be released in Europe.
In Germany, the Mazda 2 lineup consists of two models: the DJ model, which has been available since 2015, and the Mazda 2 Hybrid, which is essentially a rebadged version of the Toyota Yaris Hybrid and has been on the market since 2022.
For the 2023 model year, Mazda has given the DJ model another facelift. The most notable change is the redesigned front apron, which features an air intake with distinctive corners that resemble a smiling expression. The radiator grille above it has also been updated in the sportier versions of the car.
The new front design is characterized by the inclusion of grill inserts. Additionally, a new variant called the BD version has been introduced, where BD stands for Blank Deck. This version offers a smooth-surfaced radiator grille insert that can be customized with different colors based on the chosen equipment line or special model.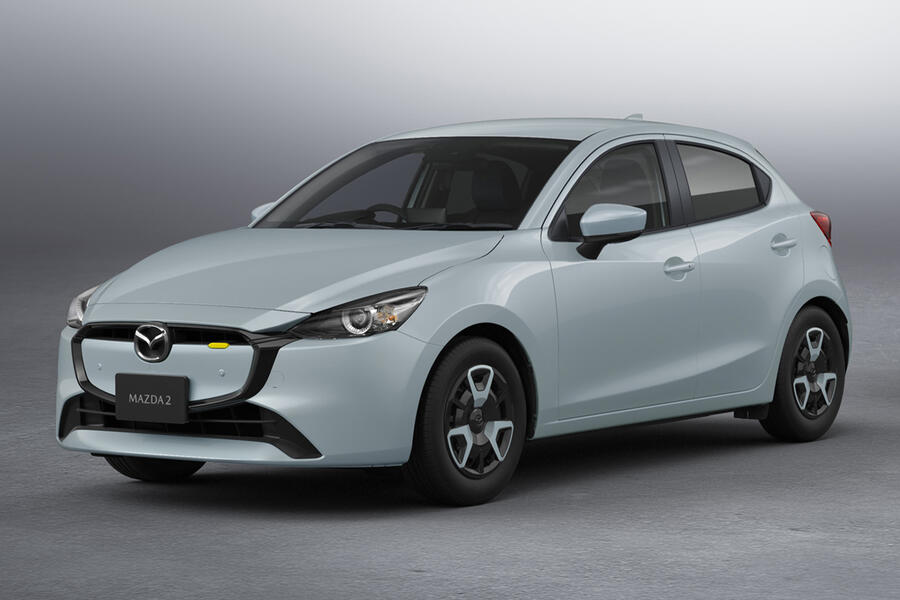 The changes to the rear apron are relatively minor compared to the previous version. There are options to paint small areas in a contrasting color different from the base coat. Furthermore, the available color palette for the Mazda 2 has been expanded, including the introduction of Aero Gray and Air Stream Blue in the range. Japan also offers various design variations for the Mazda 2.
Inside the car, the sportier models feature black surfaces with red contrasting stitching. Other models have received new surface materials and color options.
The engine lineup for the 2023 Mazda 2 remains unchanged. It still offers a 1.5-liter four-cylinder petrol engine with three power outputs: 75 hp, 95 hp, and 115 hp. The two more powerful engines with manual transmission are equipped with a mild hybrid system as standard.
In addition to the regular variants Prime-Line, Center-Line, and Exclusive-Line, Mazda is introducing sporty special editions for the 2023 Mazda 2: Homura and Homura Aka. Homura Aka is based on the highest equipment line, Exclusive Line, and features a black-painted roof, diamond-cut alloy wheels, fabric/leather seats with red stitching, and special applications on the door panels and dashboard.
The refreshed Mazda 2 starts at a price of 15,590 euros for the 75 hp version. The 90-hp petrol engine model starts at 18,390 euros, and the 115-hp version requires a minimum of 22,990 euros.
The German market can expect the new Mazda 2 to be available for delivery starting in April or May 2023.
To summarize, Mazda has subtly upgraded the Mazda 2 small car model. The refreshed version will be available in Germany from April/May 2023, with prices starting at 15,590 euros.