The Opel Rocks-E is a distinctive light electric vehicle designed to cater to a broad audience, including teenagers aged 15 and above. Classified as an L6e vehicle with a maximum speed of 45 km/h, it is accessible to individuals holding an AM driver's license.
Opel deliberately opted for the L6e classification to make it inclusive for all target groups aged 15 and above, while L7e variants would require a regular car driver's license. The Rocks-E is not a traditional car but aims to replace electric bikes and scooters, offering a unique and exciting micro-adventure in city traffic.
Distinct Features and Limitations:
As a light electric vehicle, the Rocks-E must adhere to stringent approval requirements, particularly in terms of weight. These requirements leave limited room for heavy comfort and safety features commonly found in traditional cars. Consequently, the Rocks-E lacks airbags, ESP (Electronic Stability Program), and air conditioning.
However, it is equipped with essential features such as a three-point seat belt, heater, and a roof, setting it apart from e-bikes and e-scooters. While colloquially referred to as a "non-car," it is important to acknowledge that the Rocks-E falls under the category of light electric vehicles.
Counter-opening Doors: To optimize costs, Opel designed the Rocks-E using a multitude of identical parts. This includes the front and rear masks, which are practically the same component, as well as identical doors. As a result, the driver's door is hinged at the rear, while the passenger's door is hinged at the front. Although this design choice may appear amusing, it does not offer practical advantages in everyday use, as the doors do not open wide enough for comfortable entry.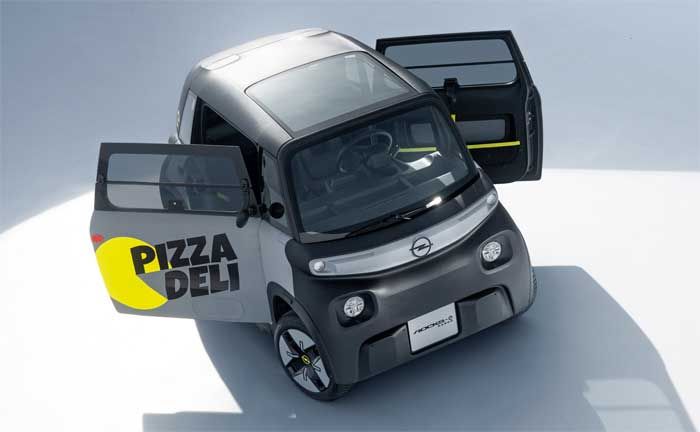 Cockpit and Interior:
Plastic dominates the interior of the Rocks-E, and even the body feels like it could go in a dishwasher, although it is strictly prohibited to wash the entire vehicle in a car wash. Despite the firmness of the seats, featuring plastic padding on plastic, occupants find surprising comfort and ample space.
The driver's seat is adjustable, but there is no option for height adjustment in the seats or steering wheel. The Rocks-E's spaciousness is accentuated by the large glass roof, giving an impression of greater size than it actually possesses. The acoustic experience inside the vehicle is peculiar, with conversations sounding dull, as if one had a large Tupperware bowl on their head.
Regarding storage, soft bags, and jackets can be conveniently placed behind the seats, utilizing the footwell as a 63-liter luggage compartment when there are no passengers. Furthermore, the Rocks-E offers generous door pockets and rubber shelves on the dashboard, albeit limited to the higher-priced variants.
Controls and Connectivity:
The control knob to the right of the steering wheel provides space for a smartphone, accompanied by a USB port for charging and connecting devices. Essential controls, such as the hazard warning light switch, ventilation, and heating, are also located in this area.
A simple information display in front of the steering wheel provides essential data such as speed, range, and battery charge level. To enjoy music, a Bluetooth speaker is required, which can be conveniently stored in the compartment in front of the steering wheel if purchased from Opel.
Also, owing to its relation to the Citroën AMI One, the Rocks-E offers connectivity features through the Opel app, providing users with further information about the vehicle. Notably, adjusting the outside mirror on the passenger side interferes with the ability to close the folding window unless the mirror is readjusted, which may be an inconvenience, particularly for younger drivers.
Hands-free phone usage is possible with the inclusion of a Bluetooth hands-free kit, which can be attached to a strut of the tubular frame chassis. Alternatively, users can explore more affordable alternatives online if the official Opel part is deemed too expensive.
Drive and Performance:
Initiating the Rocks-E involves turning the ignition key, waiting for the beeping sound, adjusting the rear-view mirror (available at an additional cost), and pressing the "D" button to set it off. Although it emits an electric car-like sound, the driving experience differs significantly.
Acceleration from 0 to 50 km/h is not quantifiable due to inaccessibility to the typical instant torque associated with electric vehicles. The Rocks-E's performance is hindered by its 12 horsepower, which struggles to propel the vehicle's weight of 471 kilograms.
It manages a cautious acceleration and a brief burst of speed at the traffic light, provided no inclines are present. Operating the Rocks-E entails maintaining full throttle, as reaching its maximum speed of 45 km/h can be challenging for following traffic. However, other road users tend to take an interested and accommodating stance, as the Rocks-E's slightly lower speed does not significantly disrupt traffic flow.
Releasing the accelerator activates regenerative braking, preserving the life of the front disc and rear drum brakes while maximizing the vehicle's range, which reaches a maximum of 74 kilometers. The suspension comfort is adequate, but the Rocks-E tends to produce noticeable noise when encountering potholes. Due to weight considerations, sound insulation is not prioritized in L6e vehicles.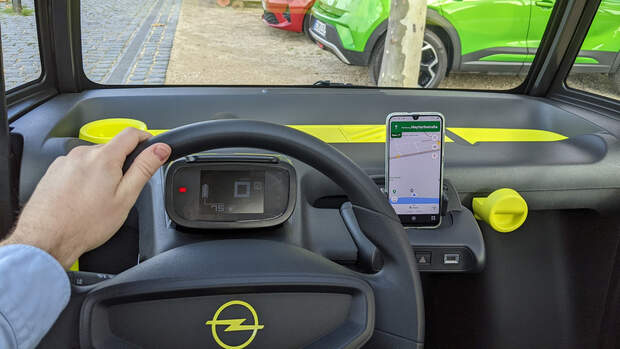 Black Plastic as a Design Focus
The Rocks-E, an electric vehicle manufactured by Opel, incorporates black plastic as a design focal point. This choice gives the car a sleek and modern appearance. However, if customers desire yellow accents, they must opt for the TeKno equipment package. The overall design aims for simplicity and ease of use.
Comfort
The Rocks-E provides a comfortable driving experience, with features that enhance convenience and temperature control. The car includes a heater that can generate a temperature difference of six degrees, accompanied by a noticeable hissing sound. While this feature is beneficial, it is important to note that if the car is started at an outside temperature of 0 degrees Celsius, occupants may still require thick jackets and gloves for warmth.
Notably, the Rocks-E excels in parking situations. Despite the absence of power steering, the car maneuvers effortlessly around corners. Its compact size, being 20 centimeters shorter than a Smart car, enables hassle-free parking in tight spaces. Charging the 5.5 kWh battery, located under the seats, requires using a three-meter-long cable stored in a compartment behind the passenger door. When connected to a Schuko socket, the charging time to reach 100% capacity is approximately 3.5 hours. For a type 2 wallbox, an additional adapter costing 333 euros is necessary.
Costs
Opel prioritized affordability with the Rocks-E, aiming to keep the price below 8,000 euros. Ultimately, the starting price is set at 7,990 euros. However, if customers choose to add the Klub or TeKno equipment packages, the price increases to 8,790 euros. Additionally, there is an extra cost of 350 euros for collection from the dealer.
Therefore, the minimum price amounts to 8,340 euros. This price may seem significant, especially for a 15-year-old considering their limited financial resources. However, Opel offers financing options as well. By paying an initial sum of 2,600 euros, customers can spread the remaining amount over 48 months, resulting in a monthly payment of 49 euros. This puts the Rocks-E in a similar cost range as a monthly public transport subscription.
The "Rocks-E" and its Mission
The Rocks-E embarks on its mission with a smile, attracting attention from interested individuals during its initial tour through Frankfurt. The concept of zipping through bustling cities in a compact electric vehicle holds undeniable charm. Technically, the Rocks-E offers surprising capabilities despite its small size.
However, venturing into the rush hour traffic of a big city at a maximum speed of 45 km/h requires considerable bravery. The Rocks-E, being slower than the average flow of traffic, can cause congestion on main roads, as it occupies an entire lane. At times, the initial sympathy and curiosity from onlookers may wane. To address this issue, a potential solution could involve revising the L6e approval, as the 45 km/h speed limit may no longer be suitable for present-day conditions.