Volkswagen (VW) is introducing a cost-effective version of the Polo, called the "Track MPI," in Brazil. This model is intended to replace the soon-to-be-discontinued VW Gol, a small car that has enjoyed popularity in the Brazilian market. Despite its name, the "Track" suffix does not indicate a sports variant of the VW Polo; rather, it is a model positioned at the lower end of the affordability spectrum.
VW has been successful in Brazil with its lineup of affordable small cars. However, with the impending end of production for the popular VW Gol, which is based on the MQB-A0 platform, the company needed to find a suitable replacement. Hence, the decision to launch a budget-friendly version of the Polo in Brazil cleverly disguises its cost-cutting approach.
The starting price for the base Polo (1.0 TSI) in Brazil is approximately 17,500 euros. In contrast, the Track MPI model is priced at around 15,000 euros, which is equivalent to the previous VW Gol. The cost savings can be observed in various aspects of the Track MPI. For instance, it features halogen lights instead of LED lights, fewer body-colored parts, 15-inch steel rims with plastic hubcaps, and a suggested underride guard at the rear instead of the usual faux exhaust covers. Customers have a choice of four colors: white, black, silver, and gray.
While the exterior of the Polo Track does not appear overtly austere, the interior ambiance is more noticeably reduced. The designers have made efforts to mask its lower-cost nature. The hard plastic surfaces, for example, have different textures that create a semblance of higher value in the promotional images. VW has added orange contrast stitching to the fabric seats, but the model lacks a touchscreen infotainment system, featuring only the basic radio unit instead.
Standard equipment includes air conditioning, power steering, front electric windows, four airbags, and central locking with remote control. Additionally, VW is offering a launch model with a sound system, Bluetooth, USB ports, and a multifunction steering wheel. However, advanced driver assistance systems, except for hill start assist, electronic stability control (ESC), and seat belt reminders, are not available in the budget Polo.
The Track MPI comes with a 1.0-liter three-cylinder engine producing 80 horsepower, coupled with a manual five-speed gearbox. Notably, the Brazilian version of this model is capable of running on both petrol and ethanol fuels. Customers seeking turbocharged engines or a Direct-Shift Gearbox (DSG) will have to opt for the regular Polo lineup, which comes at a higher price point.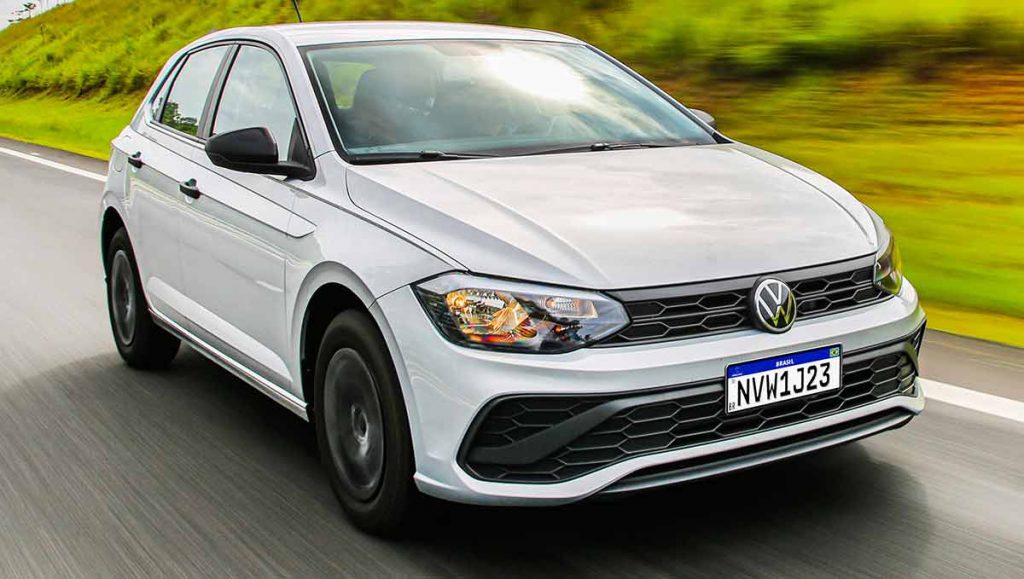 In many countries, automakers frequently remove basic models from their product catalogs due to stringent emission regulations and mandatory advanced safety features, which make the production of affordable small cars financially unviable for corporations. However, in South America, Volkswagen demonstrates with the Polo Track MPI what can be achieved when fewer regulations are in place—a genuinely economical model with practical equipment suitable for everyday use.