The Mini Cooper priced at 23,100 euros is subject to a consumption check. Despite its higher cost, the Mini Cooper is renowned for providing an exceptional driving experience. However, it comes with a relatively frugal set of features. The base model is equipped with 15-inch wheels, while the more fitting 17-inch wheels can be obtained at an additional cost of 1,300 euros. Opting for sports seats would incur an extra expense starting from 960 euros.
Those interested in the Mini Cooper typically prioritize qualities other than money and space. They tend to appreciate its well-known superior driving characteristics. While the commonly used compared to a go-kart should not be taken too literally, the Cooper displays impressive agility and cornering capabilities. A significant factor contributing to this performance is its finely tuned, responsive steering that allows for neutral, safe, and predictable navigation through various types of turns. The car exhibits minimal body roll and experiences little to no traction issues.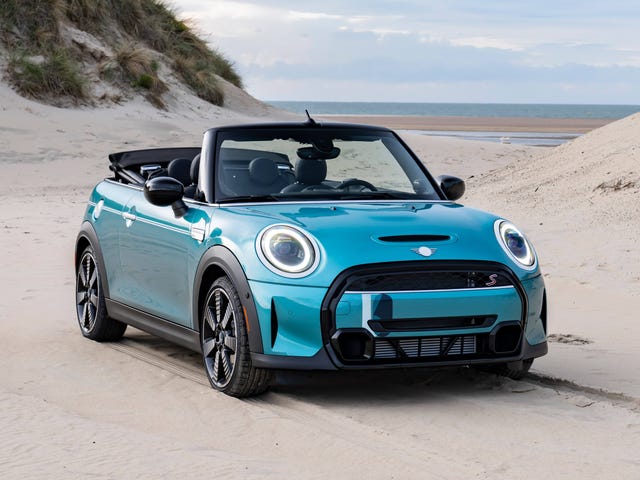 Now, let's address the fuel and maintenance costs.
Our test results indicate that the Mini Cooper has a WLTP standard consumption rating of 6.5 liters of Super fuel. In real-world driving, we observed an average consumption of 7.4 liters, resulting in fuel costs of 12.80 euros per 100 kilometers. On the Eco lap, the Mini Cooper achieved a consumption rate of 5.9 liters, while it consumed 7.2 liters on the Commuter route. Under sporty driving conditions, fuel consumption increased to 9.5 liters.
The test consumption figures comprise 70% from the commuter round and 15% each from the Eco and Sports segments.
Regarding monthly maintenance costs, driving the Mini Cooper in an eco-friendly manner, as demonstrated in our eco-lap, would reduce fuel costs to 10.21 euros per 100 kilometers. On the other hand, adopting a more spirited driving style resulted in fuel costs totaling 16.44 euros.
The vehicle tax for the new Mini Cooper amounts to 134 euros per year, while liability insurance costs 375 euros. Additionally, partial and fully comprehensive insurance comes with added expenses of 153 euros and 400 euros, respectively. Assuming an annual mileage of 15,000 kilometers, the monthly maintenance costs for the Mini Cooper amount to 231 euros. Doubling the mileage would raise the sum to 413 euros. It's worth noting that this calculation does not include depreciation.
To conduct the test, test employed three consumption runs with varying weightage. The "commuter consumption" segment accounted for 70% and represented an average 21-kilometer journey from home to work. The rating included an eco-lap covering approximately 275 kilometers, emphasizing fuel efficiency, which contributed 15%.
The remaining 15% was dedicated to the sports driver lap, which featured a similar distance as the eco-lap but incorporated a larger proportion of motorway driving with higher average speeds. The fuel cost calculation was based on the prices listed on the "more taken" portal on the day the article was created.
The monthly maintenance costs encompass maintenance, wear part expenses, and vehicle taxes, assuming an annual mileage of either 15,000 or 30,000 kilometers, without accounting for depreciation. The calculation is based on the test consumption, a three-year ownership period, a no-claims class SF12 for liability insurance, and comprehensive insurance provided by Allianz, which includes discounts for parking in a garage and limitations on the covered drivers (excluding those under 21). Allianz offers a discount rate of 34% for liability insurance and 28% for comprehensive insurance under SF12.
Conclusion
Technical specifications
| | |
| --- | --- |
| | Mini Cooper Cooper |
| Basic price | €23,151 |
| External dimensions | 3821x1727x1414mm |
| Trunk volume | 211 to 731L |
| Displacement / engine | 1499 cm³ / 3 cylinder |
| Performance | 100 kW / 136 hp at 4500 rpm |
| Top speed | 210km/h |
| 0-100km/h | 9.3s |
| Consumption | 4.8L/100km |
| Test consumption | 7.4L/100km |