The Acura Integra 2023 marks the triumphant return of a beloved brand, determined to prove its worth to a loyal and passionate fanbase. Previously known as the RSX, this car brings back memories of the iconic DC4 Integra, which bid farewell to North America in 2001. Despite its departure, the Integra remains a subject of adoration among its dedicated followers, who reminisce fondly about its numerous endearing qualities. With the arrival of the Integra 2023, the dream of reuniting with this beloved car becomes a reality, stirring the hearts of fans who have never lost their love for this timeless classic.
Acura, Honda's luxury division, has resurrected the legendary Integra nameplate with a splash of innovation. The new Integra steps in to fill the shoes of the underwhelming ILX sedan and aims to conquer the entry-luxury compact segment.
Some may question the decision to launch a sporty four-door in a world dominated by SUVs, but the Integra has a special place in the heart of Acura enthusiasts. It embodies the essence of what made the brand so beloved in the first place.
The latest Integra is a hatchback masterpiece that shares its foundation with the refreshed Honda Civic. Under the hood, it boasts the same turbocharged 1.5-liter four-cylinder engine as the Civic Si, offering a six-speed manual transmission (with an automatic as the standard).
Driving the Integra is a thrilling experience, providing a sportier presence compared to the Civic, but falling short of the luxury elements present in competitors such as the Audi A3 and the Mercedes-Benz CLA-class. Nevertheless, the Integra is a welcome addition to the entry-luxury compact segment, ready to shake things up and leave its mark.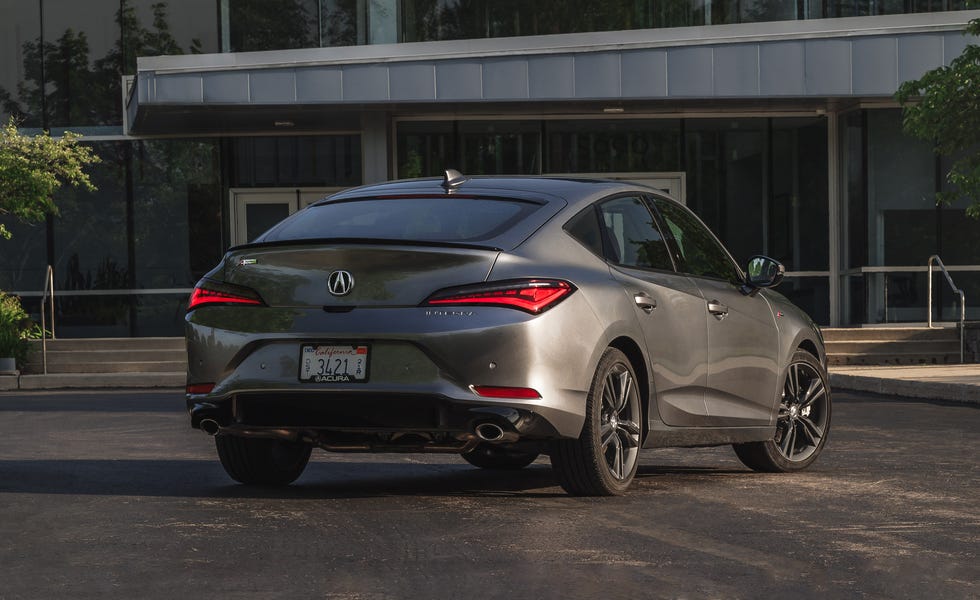 What's New for 2023?
The return of the legendary Acura Integra is cause for celebration, and its all-new model for 2023 is a true masterpiece. With sales starting in June 2022, this powerful machine is ready to make its mark on the automotive world. But with multiple options to choose from, it can be difficult to know which one is right for you. Let's take a closer look at the available models and their pricing.
Starting at $32,495, the base model is a solid option for those who want the classic Acura Integra experience. However, if you're looking for something a little sportier, the A-Spec model is where it's at. With a price tag of $33,895, it features a bolder body design, 18-inch wheels, and the option to upgrade to a six-speed manual transmission.
For those who want the best of both worlds, the A-Spec Technology package is the way to go. At $36,895, this package not only gives you the manual transmission, but also an adaptive suspension system, a 10.2-inch digital gauge display, a 16-speaker ELS stereo system, and wireless smartphone charging, among other top-of-the-line features.
So, which one to buy? Until the high-performance Type S arrives next year, the A-Spec model is the one to go for. It strikes the perfect balance between style and performance, and unlocking the manual transmission is a must for any driving enthusiast. Adding the Technology package is a no-brainer, as it only adds $3000 to the total cost and provides an impressive list of features that are sure to enhance your driving experience. Get ready to elevate your game with the all-new Acura Integra.
Engine, Transmission, and Performance
The all-new Integra is a thrill-seeker's dream come true, with its pulse-racing 200-horsepower turbocharged 1.5-liter four-cylinder engine borrowed straight from the legendary Honda Civic Si. With front-wheel drive and a standard continuously variable automatic transmission (CVT), this sleek machine is designed to glide effortlessly through the streets. But for those who crave a little extra control, the A-Spec models come with an optional six-speed manual transmission and a limited-slip differential, ensuring a dynamic and engaging driving experience.
When put to the test, the six-speed manual A-Spec hit 60 mph in a lightning-fast 7.0 seconds, and the CVT-equipped A-Spec was just a hair behind at 7.1 seconds. And for those who want a ride that adapts to their mood, an adaptive suspension system is available, allowing drivers to switch between a comfortable cruising mode or a sportier setting for a stiffer, more exhilarating ride.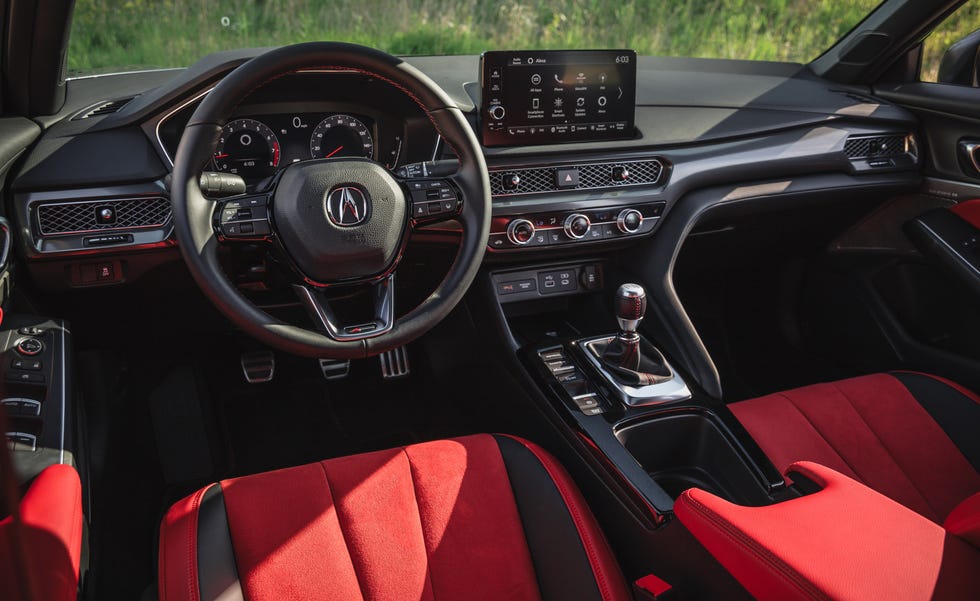 With Integra's drive-mode selector switch, drivers can create their own customized settings, thanks to the A-Spec's Individual drive mode. During our initial test drive, the Integra proved to be a lively and spry performer, with heavily weighted steering that provided a satisfyingly direct response. However, road noise could be heard more clearly than desired, and we wish Acura had used more sound-deadening materials. Overall, the Integra is a thrilling machine that delivers an unforgettable driving experience.
Fuel Economy and Real-World MPG
Unleash efficiency with the Integra! The EPA crowns the base model with CVT as the most fuel-saving powerhouse, boasting a 30 mpg city and 37 mpg highway rating. With these impressive stats, Integra takes the lead against its competitor, the Audi A3, which trails behind with a 29 mpg city and 38 mpg highway rating.
Upgrading to the sporty A-Spec trim with a manual transmission? Expect a slight drop in fuel economy, estimated at 26 mpg city and 36 mpg highway. But don't just take our word for it, on a recent 75-mph highway test drive, our Integra automatic model outdid even its EPA rating, reaching a soaring 38 mpg! Get all the details on Integra's eco-friendly efficiency by visiting the EPA's website.
Interior, Comfort, and Cargo
Nestled within the Honda Civic's design, Acura has meticulously crafted the cabin to exude the brand's signature style, drawing inspiration from both the sleek TLX sedan and the rugged RDX SUV. As standard, the heated sports seats are swathed in faux leather and offer a customizable driving experience with eight-way power adjustments for the driver. For those seeking even more luxury, the A-Spec model with the Technology package offers faux-suede inserts and elevated comfort with 12-way power adjustments for the driver and four-way power adjustments for the front passenger. Despite offering ample space for two adults, the rear seat falls short in terms of amenities, lacking rear-seat air vents and heated seats which may disappoint those seeking a fully indulgent premium experience.
Infotainment and Connectivity
The Integra boasts a sleek 10.2-inch digital gauge display, presenting crucial information with effortless ease and versatility. Upgrade to the 9.0-inch infotainment display, available with the Technology package, to enjoy an immersive driving experience without the frustration of traditional touchpad controllers. This package also treats you to a wireless smartphone charging pad, a heads-up display, and multiple USB-C charging ports. Stay connected on the road with the seamless integration of Apple CarPlay and Android Auto, and for the ultimate sound journey, upgrade to the ELS Studio 3D premium stereo system – a true audiophile's dream with 16 thundering speakers.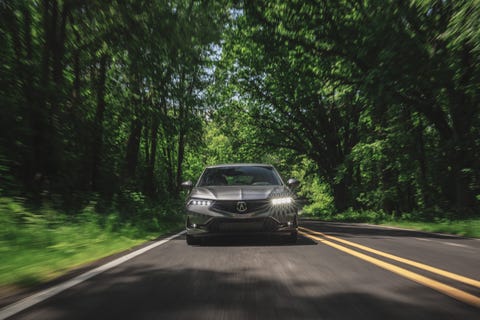 Safety and Driver-Assistance Features
The Integra comes fully equipped with a suite of driver-assistance features that make driving safer and more stress-free. With its cutting-edge technology, the Integra is always on the lookout for potential dangers, ready to take action in a split second.
The standard automated emergency braking system not only keeps an eye on the road ahead, but it also detects pedestrians and will automatically apply the brakes if needed. The lane-departure warning with lane-keeping assist ensures that you stay in your lane, while the adaptive cruise control adapts to the speed of the vehicle in front of you, keeping a safe distance at all times.
For those who love an extra dose of luxury, A-Spec models with the optional Technology package come with front and rear parking sensors, making parking a breeze.
So if you're looking for peace of mind on the road, Integra has got you covered. To see for yourself just how safe this car is, visit the National Highway Traffic Safety Administration (NHTSA) and Insurance Institute for Highway Safety (IIHS) websites for the latest crash-test results.
Warranty and Maintenance Coverage
With Acura, you'll never have to worry about the power behind your drive. Their unbeatable powertrain warranty stretches far and wide, offering a secure blanket of coverage for a whopping six years or 70,000 miles. But if you're considering the BMW 2-series Gran Coupe, you'll be swept off your feet with their added bonus of an extra year of complimentary scheduled maintenance. With a limited warranty that covers four years or 50,000 miles and a complimentary maintenance plan for two years or 24,000 miles, you'll never have to sacrifice the power of your ride for peace of mind.
Specifications
With its sleek, aerodynamic design and powerful engine, this front-wheel-drive hatchback is ready to conquer the road.
Step inside and be amazed by the spacious, comfortable cabin that can accommodate up to five passengers. With 96 cubic feet of passenger volume, you'll have plenty of room to stretch out and enjoy the ride. And if you need to haul some gear, the 24 cubic feet of cargo volume will come in handy.
Under the hood, the 2023 Integra A-Spec Manual is a true powerhouse. The turbocharged and intercooled DOHC 16-valve inline-4 engine delivers 200 horsepower and 192 lb-ft of torque, making it a force to be reckoned with. And with a 6-speed manual transmission, you'll have complete control over your driving experience.
This vehicle is not just about speed and power, it's also about handling and stability. The front and rear struts and multilink suspension, combined with 12.3-inch vented front disc brakes and 11.1-inch rear disc brakes, make for a smooth, controlled ride. And with Continental ContiProContact tires, you'll have the traction you need in any weather.
Starting at just $33,895, the 2023 Acura Integra A-Spec Manual is the perfect blend of performance, style, and affordability. So don't wait, get behind the wheel and feel the thrill of the road today.
With its powerful engine, this car is sure to turn heads and leave you breathless.
The 2023 Acura Integra dominated the C/D test results with its lightning-fast acceleration of 60 mph in just 7.0 seconds. This powerhouse car can cover a 1/4-mile in just 15.3 seconds at a speed of 93 mph. The 100 mph mark is reached in just 17.3 seconds, making it one of the fastest cars in its class.
The rolling start from 5-60 mph is no less impressive, taking just 7.9 seconds to reach top speed. In top gear, this car can go from 30-50 mph in 10.4 seconds and 50-70 mph in 8.5 seconds. With a top speed estimated at 135 mph, the 2023 Acura Integra is a car that was built for speed.
When it comes to braking, this car is a true champion. The 2023 Acura Integra stops from 70-0 mph in a mere 178 feet, and from 100-0 mph in just 358 feet, providing you with unmatched stopping power. The road-holding performance on a 300-ft skidpad is a remarkable 0.88 g, giving you complete control of the car.
This car also has outstanding fuel economy, with an observed mpg of 31. The EPA fuel economy is equally impressive, with a combined, city, and highway mpg of 30, 26, and 36, respectively.
Get ready to experience the rush of adrenaline with the 2023 Acura Integra – a car that is built for speed, power, and performance.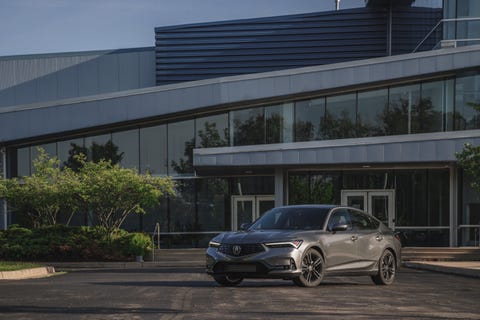 2023 Acura Integra A-Spec Automatic
Boasting a turbocharged and intercooled DOHC 16-valve inline-4 engine with an aluminum block and head, this five-passenger, the four-door hatchback is a true marvel of engineering. With direct fuel injection and a displacement of 91 cubic inches, this engine delivers a thrilling 200 horsepower at 6000 RPM and 192 lb-ft of torque at 1800 RPM.
This stunning vehicle comes in a base price of $32,800 or, as tested, $33,300 and features an optional liquid carbon metallic paint finish for an extra $500, adding an extra touch of luxury and flair to its already striking appearance.
Step inside the 2023 Acura Integra A-Spec Automatic and be prepared for a ride like no other. With its smooth, quick acceleration and precise handling, this vehicle is sure to provide an unforgettable driving experience. So gear up, buckle up, and let the journey begin.
The transmission of this beauty boasts a continuously variable automatic that provides seamless gear changes, giving you a driving experience like no other.
The chassis of the Integra is designed to deliver a perfect balance between comfort and handling. With front and rear struts and multilink suspension, you'll feel like you're gliding on air. And when it comes to stopping power, the 12.3-inch vented disc brakes in the front and 11.1-inch disc brakes in the back will give you confidence behind the wheel. Tires from Continental ContiProContact provide ample grip, ensuring a smooth and stable ride.
With a wheelbase of 107.7 inches, a length of 185.8 inches, a width of 72.0 inches, and a height of 55.5 inches, this compact car offers ample passenger volume of 96 cubic feet and 24 cubic feet of cargo space. Despite its compact size, the Integra tips the scales at a substantial 3144 pounds.
In terms of performance, Integra is a powerhouse. It accelerates from 0 to 60 mph in just 7.1 seconds, making it a thrilling ride. The quarter-mile run is achieved in a brisk 15.5 seconds at 95 mph. The Integra's top speed, as estimated by C/D, is an impressive 135 mph. The brakes are equally impressive, bringing the car to a complete stop from 70 mph in just 174 feet, and from 100 mph in 349 feet. With a road-holding of 0.90 g on a 300-ft skidpad, the Integra is sure to provide a thrilling driving experience.
In terms of fuel efficiency, the Integra delivers an observed fuel economy of 23 mpg, making it a practical choice for everyday use. The EPA fuel economy estimates of 32 mpg combined, 29 mpg in the city, and 36 mpg on the highway are impressive, and the 75-mph highway range of 470 miles means you can travel further without worrying about refueling.
In conclusion, the 2023 Acura Integra is a stunning compact car that delivers a thrilling driving experience, balanced handling, and impressive fuel efficiency. Get ready to be swept off your feet with this masterpiece of precision and performance.