The 2023 Acura RDX is a refined and sophisticated work of art, an embodiment of the perfect harmony between power and elegance. Its sleek design and powerful engine carry over from the 2022 model year, but with a new twist. The 2023 model introduces cutting-edge connected services through AcuraLink, providing drivers with the ultimate technological experience.
For those seeking a more youthful and sporty vibe, the 2023 Acura RDX offers the A-Spec trim. This upgrade is a true statement of style, reflecting the spirit of the adventurous and stylish. Popular with buyers in their early 40s, the A-Spec trim adds a touch of sophistication, making the RDX the perfect vehicle for those who live life to the fullest.
Experience the power and class of the 2023 Acura RDX, a true masterpiece of engineering.
Powertrain & Fuel Consumption
Hidden beneath the sleek and stylish exterior lies a heart of fire, a 2.0-liter turbocharged four-cylinder engine that roars with 272 horses at 6,500 RPM and a monstrous 280 lb-ft of torque that thunders from 1,600 to 4,500 RPM. The engine is paired with a 10-speed automatic transmission that effortlessly shifts through gears to unleash its power.
With front-wheel drive as standard, this machine is always ready for action, but for those who crave a little extra control, the optional SH-AWD (Super Handling All-Wheel Drive) with torque vectoring is a perfect choice. Whether you're navigating city streets or challenging mountain roads, you can select from Normal, Comfort, Sport, or Snow driving modes to match your mood and the conditions. With an estimated fuel economy of 23 to 24 mpg combined, you can enjoy the thrill of the drive without sacrificing efficiency.
The RDX 2023 is the epitome of style and performance with its standard sport-tuned chassis and 19-inch wheels that promise to give you an adrenaline rush with every drive. But, if you're looking to take your driving experience to the next level, the optional adaptive damper system with three different profiles and 20-inch wheels will have you soaring down the roads like never before.
Step inside, and you'll be greeted by a lavish interior featuring a 10.2-inch HD touch display that's your gateway to an array of technology features. With wireless Apple CarPlay and Android Auto, you can keep your hands on the wheel and eyes on the road, and never miss a beat.
For those who love to personalize their ride, the RDX has an array of optional features that will make you the envy of everyone on the road. From the luxurious open-pore wood and Milano leather to the convenient wireless cell phone charging, you can make this car truly your own. And let's not forget the 16-speaker, 710-watt ELS STUDIO 3D audio system that will bring all your favorite Tom Petty tunes to life with breathtaking sound quality.
Acura RDX 2023 safety features
The RDX is an embodiment of advanced technology and safety, equipping you with a suite of innovative features to keep you protected on the road. Experience peace of mind with Blind Spot Information, which alerts you of vehicles lurking in your blind spots. The Lane Departure Warning ensures you stay in your lane, while the Adaptive Cruise Control with Low-Speed Follow lets you cruise comfortably and with ease.
In the event of a potential collision, the Collision Mitigation Braking system kicks in to help prevent a crash. The Road Departure Mitigation system also keeps you on track by detecting if you stray from the road, while the Forward Collision Warning alerts you of any impending danger. The Lane Departure Warning, Traffic Sign Recognition, and Rear Traffic Mode add an extra layer of protection, ensuring you drive with confidence and ease. The RDX sets the bar high, making your safety its top priority.
Acura factory warranty
The 2023 Acura RDX is built to last, with a solid four-year/50,000-mile warranty and an even stronger six-year/70,000-mile powertrain warranty. Known for its dependability, the Acura brand delivers the same reliability as its parent company, Honda. If you're looking for even more peace of mind, you might consider investing in an extended warranty – just another way to ensure that your Acura RDX stays road-worthy for many adventures to come.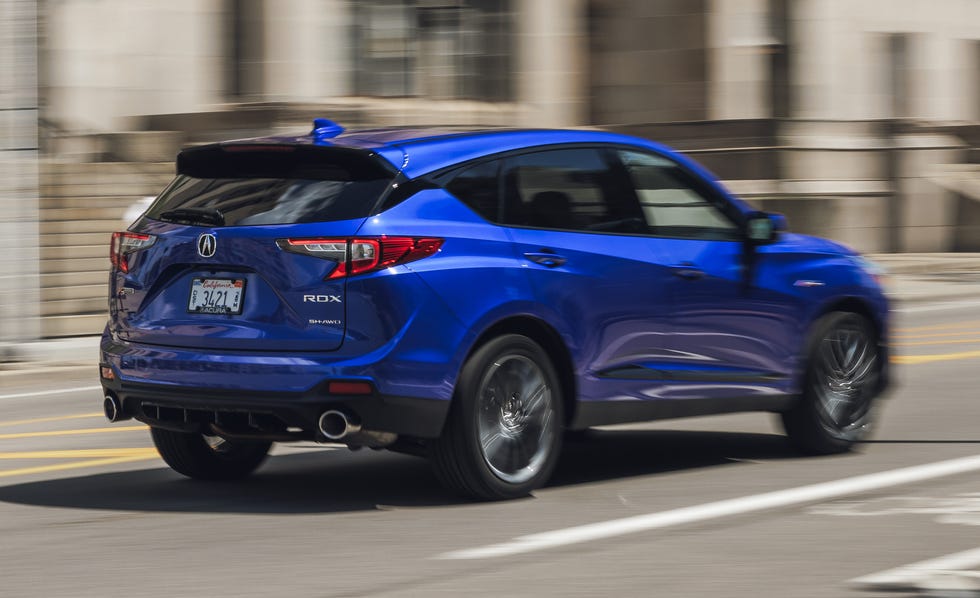 Acura RDX 2023: Packages & Pricing
Offered in a single base model with a range of exciting packages, the RDX is the ultimate luxury experience on wheels.
For tech enthusiasts, the technology package is a must-have. With features such as wireless smartphone charging, LED ambient lighting, a reversing camera, and 19-inch wheels with pewter gray accents, you'll never miss a beat. Upgrade to the Advance Package and take your experience to new heights with power folding exterior mirrors, adaptive chassis, open-pore wood paneling, ventilated front seats, and heated rear seats.
Starting at 42,545 euros for the front-wheel drive entry-level model, the RDX provides an affordable way to step into luxury. Upgrade to the technology package for 45,195 euros, or opt for the sporty A-Spec version for 48,195 euros.
For those seeking an all-wheel-drive experience, the RDX has you covered. Starting at 44,745 euros, with the technology package, the price increases to 47,395 euros, while the A-Spec designation takes you to just over 50,000 euros. For the ultimate RDX experience, opt for the RDX A-Spec with the Advance package for an MSRP of 54,545 euros.
Drive with confidence, luxury, and style in the RDX, the perfect blend of form and function.
Fuel Economy and Real-World MPG
The RDX is an eco-friendly dynamo, with fuel-economy ratings that will make your wallet sing. With city and highway estimates hovering in the mid-20s, this sleek machine is designed to save you time and money at the pump. The front-drive model boasts impressive numbers of 22 mpg in the city and 28 mpg on the highway, but if you choose the all-wheel-drive option, those numbers drop by a mere 1 mpg.
Take it up a notch and opt for the A-Spec package, and you'll experience a thrilling ride that's also kind to your wallet. Although highway estimates drop by 1 mpg, with the front-drive model boasting 27 mpg and the all-wheel-drive 26 mpg, you'll still enjoy a smooth ride with plenty of fuel to spare. We put the RDX A-Spec SH-AWD to the test and were blown away by its performance, achieving 26 mpg on our rigorous 75-mph highway fuel economy route.
For more information on how the RDX is revolutionizing fuel efficiency, visit the EPA's website and see for yourself why this car is turning heads and saving gas.
Interior, Comfort, and Cargo
Step inside the RDX and you'll be greeted by a sleek and sophisticated center stack, brimming with buttons, a touchpad, and a prominent rotary drive-mode selector. Our test vehicle boasted the A-Spec package's bold red seats, adding a touch of flair to the already impressive cabin. The build quality is top-notch, with desirable features like ambient lighting, heated and power-adjustable front seats, and dual-zone climate control as standard.
Though it may not quite exude luxury, the RDX offers a sportier experience than its Honda CR-V sibling. Everything feels solid and well-constructed, and the driving position strikes a perfect balance between SUV practicality and driving excitement.
Need more cargo space? With the touch of a handle or the press of a button, the back row folds flat, providing ample room for all your adventures. In fact, we fit eight carry-on bags with the seats up and a whopping 22 with them down. The RDX also features a spacious passthrough storage tray beneath its floating center console.
Infotainment and Connectivity
Perched high on the dashboard, the RDX boasts a magnificent 10.2-inch touchscreen display that is the epitome of modern technology. With the touch of a finger, you can control all the features and functions of your vehicle, thanks to the intuitive touchpad located on the center console. Acura claims that the controller is intuitive, and while it may take some time to get used to it, once you get the hang of it, you'll wonder how you ever lived without it.
The RDX comes fully equipped with wireless Apple CarPlay and Android Auto, so you can stay connected to the world no matter where you go. Plus, with the built-in Wi-Fi hotspot, you'll never have to worry about losing touch with the digital world. And for those who crave even more advanced features, the optional Technology package offers built-in navigation, rear-seat USB ports, and a 12-speaker ELS Studio audio system that will bring your listening experience to new heights.
Safety and Driver-Assistance Features
Step into a world of safety with the RDX, a model that comes fully equipped with top-of-the-line driver-assist technology. From the standard forward-collision warning and automated emergency braking to the standard lane-departure warning and lane-keeping assist, you'll never have to compromise on safety. But wait, there's more! Upgrade to the Technology package for an extra layer of protection with front and rear parking sensors, blind-spot monitoring, and rear cross-traffic alert. For those who demand the ultimate peace of mind, visit the NHTSA and IIHS websites for the latest crash-test results. With the RDX, you can hit the road with confidence, knowing you have the latest and greatest safety features at your fingertips.
Warranty and Maintenance Coverage
Acura offers a warranty that embodies the epitome of luxury, matching the standards of its top-notch competitors. While the warranty provides ample protection for four years or 50,000 miles, the powertrain is guaranteed for an even longer span of six years or 70,000 miles. However, the complimentary scheduled maintenance plan falls a little short, only covering two years or 24,000 miles. Compared to the BMW X3 and the Jaguar F-Pace, the RDX's plan may come across as a brief respite from the norm.
Specifications
Unleash Your Inner Maverick with the 2022 Acura RDX SH-AWD A-Spec Advance
This front-engine, the all-wheel-drive wagon is designed for the daring and adventurous, taking you on an unforgettable journey with its turbocharged and intercooled DOHC 16-valve inline-4 engine. With an aluminum block and head, this beauty is fueled by a direct fuel injection system, exuding power and strength like never before.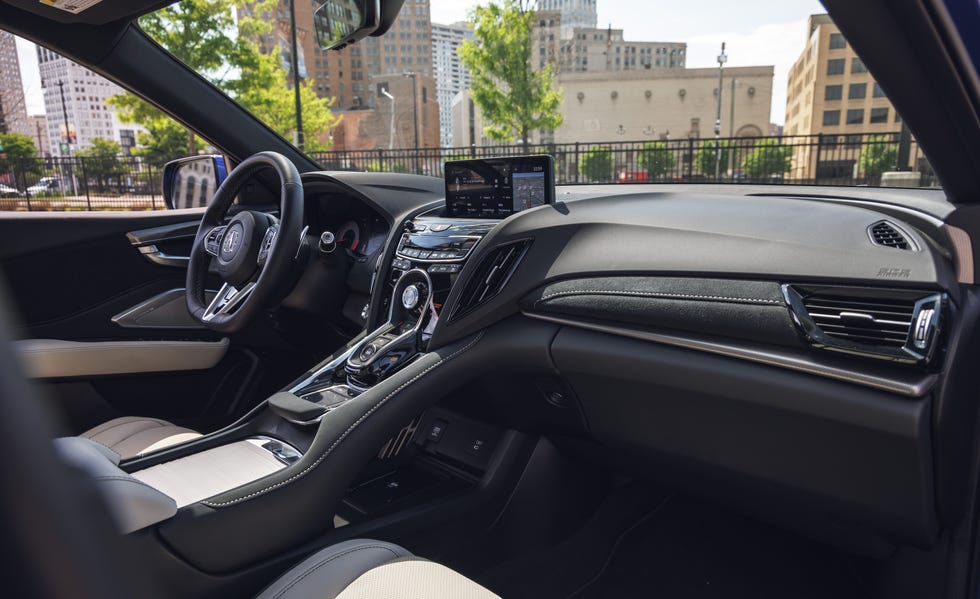 Step inside this luxurious 5-passenger, 4-door wagon and be greeted with a world of possibilities. Choose the Apex Blue Pearl paint for a sleek and stylish touch, or opt for a classic look. The RDX A-Spec Advance is priced at $53,795, or $54,295 with the added touch of the Apex Blue Pearl paint, an additional $500.
Experience a surge of power with the RDX's impressive engine, boasting a displacement of 122 cubic inches or 1996 cm3. With 272 horses galloping at 6500 RPM and 280 lb-ft of torque at 1600 RPM, this vehicle will leave you in awe of its speed and agility.
Take the road less traveled and explore new territories with the 2022 Acura RDX SH-AWD A-Spec Advance.
With a sleek, aerodynamic design and top-notch technology, the 2022 Acura RDX is a powerhouse on the road. At the heart of this vehicle lies a 10-speed automatic transmission, offering effortless shifting and seamless acceleration.
The RDX's agile chassis features a front suspension system consisting of sturdy struts and a multilink rear suspension for optimal handling and stability. Its stopping power is unmatched, with 12.4-inch vented front discs and 12.2-inch rear discs providing superior braking performance. The Goodyear Eagle RS-A tires provide a comfortable ride, with their 255/45R-20 101V M+S rating ensuring maximum grip on any road conditions.
With a wheelbase of 108.3 inches, the 2022 Acura RDX is spacious, comfortable, and practical. From its impressive engine to its superior handling, this vehicle is a thrill to drive, offering a perfect blend of style, performance, and versatility.
The 2023 Acura RDX: A Masterpiece of Power and Efficiency
60 mph: The RDX blazes down the road, reaching 60 mph in a mere 6.2 seconds. This is a feat that will leave your heart racing and your eyes wide with excitement.
1/4-Mile: The RDX is no slouch on the race track either. In just 14.9 seconds, this luxury SUV reaches the finish line at a speed of 94 mph. It's a performance that will make you feel like a professional driver.
100 mph: The RDX's incredible speed is on full display as it reaches 100 mph in just 16.9 seconds. This is a testament to the vehicle's superior engineering and power.
Rolling Start, 5-60 mph: The RDX takes off like a rocket, accelerating from 5 mph to 60 mph in just 6.9 seconds. It's a thrill ride that will leave you breathless.
Top Gear, 30-50 mph: The RDX doesn't miss a beat, reaching 30 mph to 50 mph in just 3.8 seconds. You'll feel like you're on the fast lane of life with this luxury SUV.
Top Gear, 50-70 mph: The RDX's powerful engine is at its best as it reaches 50 mph to 70 mph in just 5.1 seconds. This is a performance that you'll want to experience over and over again.
Top Speed (gov ltd): With a top speed of 112 mph, the RDX is a master of the open road. This is a speed that will take your breath away and make you feel alive.
Braking, 70-0 mph: The RDX stops on a dime, bringing you from 70 mph to 0 mph in just 180 feet. This is a feature that will give you peace of mind and ensure your safety on the road.
Roadholding, 300-ft Skidpad: The RDX hugs the road with ease, reaching 0.83 g on a 300-ft skidpad. This is a handling performance that will make you feel confident and in control behind the wheel.
C/D Fuel Economy: The RDX is a marvel of efficiency, reaching 24 mpg in observed fuel economy. With 75 mph highway driving, you can expect 26 mpg and a range of 440 miles.
EPA Fuel Economy: The RDX is a champion of fuel efficiency, achieving a combined fuel economy of 23 mpg, 21 mpg in the city, and 26 mpg on the highway. This is a performance that will save you money and reduce your carbon footprint.