Renault has announced its plans to reintroduce the R5 as an electric car starting in 2024. Additionally, the Alpine division, a subsidiary of Renault, is also expanding its lineup and will release three all-electric sports cars in collaboration with Lotus. These models include a successor to the Alpine A110, a sports crossover in the C segment, and a small compact sports car based on the CMF-B EV platform.
Alpine aims to position its customers as "early adopters" in a higher price segment, targeting individuals who have a keen interest in technology and embrace the latest product offerings. In order to achieve profitability by 2025, Alpine plans to invest in motorsport activities. The specific details of the three models were initially scarce but have now been revealed in more detail, with the "urban sports car" model showcased as the A290_ß show car.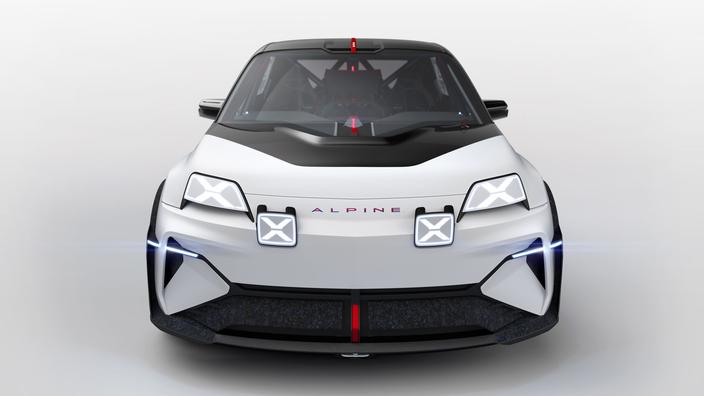 The A290_ß, which stands for A290 beta, is characterized by its unique features. It has a length of 4.05 meters, a width of 1.85 meters, and a height of 1.48 meters. The show car emphasizes agility with its short wheelbase and wide track. Notably, the driver is positioned in the center, while the two passengers sit slightly offset next to them. This configuration underscores the car's focus on racing design.
The cockpit features a sports steering wheel with flattened top and bottom sections, a hydraulic handbrake, carbon bucket seats, a telemetry display integrated into the dashboard, and a head-up display for basic functions. To avoid distractions, additional screens have intentionally been omitted. The roof console incorporates other essential controls typically found in racing cars. Steering wheel buttons provide access to the speed limiter and over-boost functions. The cockpit exudes a motorsport look, complemented by leather and aluminum elements.
The overall design of the Alpine A290_ß resembles the previously shown R5 concept, with further refinements. It includes larger air intakes at the front, LED auxiliary headlights with an X signature, flared wheel arches, indicated air intakes ahead of the rear wheels, a roof edge spoiler, and additional flaps on all four wheel arches.
The sporty appearance is enhanced by wide side skirts, a deep-drawn front spoiler, and a rear diffuser apron, all made of forged carbon with blue inserts. The roof and bonnet feature a black color contrast against the white base coat. The show car boasts 20-inch central locking alloy wheels with a distinctive square design element. The production version is expected to feature similarly styled wheels but slightly smaller at 19 inches in size.
The Alpine A290_ß is equipped with two electric motors positioned on the front axle, optimizing propulsion through torque vectoring. The racing ABS (anti-lock braking system) can be adjusted across eleven levels, and the driving modes—Wet, Dry, and Full—allow for customization according to various track conditions. Specific performance data and battery information have not yet been disclosed.
Drawing inspiration from the historical model, the R5 Turbo, the new Alpine A290_ß is anticipated to deliver significantly more power. The original R5 Turbo, produced between 1980 and 1985, featured a 1.4-liter four-cylinder mid-engine with a Garrett turbocharger, producing 160 horsepower. It achieved a 0-100 km/h (0-62 mph) acceleration time of 6.9 seconds and had a top speed of 205 km/h (127 mph). This made it faster than the Volkswagen Golf GTI of its time. Notably, the R5 Turbo was priced higher than the base model, costing around DM 44,600, which was DM 10,000 more expensive.
Car manufacturers often leverage their historical milestones to infuse a sense of modernity into their products. This strategy allows them to imbue their costly electric drivetrains with emotional appeal, which customers are often willing to pay a premium for. Renault's CEO, Luca de Meo, has mastered this approach in his previous positions, evident in the success of Fiat's Abarth models, which maintain a strong reputation despite using an older technology. Similarly, Seat's sports brand, Cupra, has embraced SUVs, even in the absence of historical models. In the case of the R5 and R5 Turbo, Renault and Alpine are taking different approaches. While Renault focuses on an electric rendition of the R5, Alpine is introducing the R5 Turbo with its own branding as the A290.