The comparison between the Opel Zafira-e Life and the VW ID. Buzz involves evaluating several aspects of the two electric vans. Space is a crucial factor to consider when purchasing a large van, as it determines the capacity for both passengers and cargo.
In terms of seating capacity, the Opel Zafira-e Life takes the lead. It offers a minimum of eight seats, distributed across two divisible benches in the second and third rows. However, choosing a configuration with six or seven seats (four individual seats or two individual seats plus a bench in the rear area) incurs an additional cost of 900 euros each.
On the other hand, the VW ID. Buzz currently only comes with five seats, with the option for a third row becoming available later in the long version at an undisclosed extra charge. The standard seating arrangement in the Buzz includes a 1:2 split rear seat bench, but it cannot currently be used in conjunction with individual rear seats.
When it comes to cargo space, the Opel Zafira-e Life offers an advantage. It allows for a maximum length of 2.41 meters when pushing cargo up to the backrests of the front seats. In contrast, the VW ID. Buzz provides 2.23 meters of length, which is almost 20 centimeters less. The Zafira also surpasses the Buzz in terms of maximum luggage compartment width (1,618 mm compared to 1,217 mm) and interior height (1,337 mm compared to 1,180 mm).
For individuals prioritizing the transportation of goods over passengers, the Opel Zafira-e Life proves to be more accommodating. Additionally, those who frequently load and unload items may find the loading sill height relevant. In this aspect, the rear-wheel drive ID. Buzz falls short compared to the Zafira, with a loading sill height of 632 millimeters as opposed to the Zafira's 584 millimeters.
Zafira-e Life / ID. Buzz dimensions (inside)
| | | |
| --- | --- | --- |
| Cargo space dimensions (mm) | Opel Zafira-e Life | VW ID. buzz |
| inner length min. | 608 | 1,300-1,450 |
| inner length max. | 2,413 | 2,232 |
| inner width min. | 1,228 | 1.204 |
| inner width max. | 1,618 | 1.217 |
| interior height | 1,337 | 1,339 |
| loading sill height | 584 | 632 |
The available space for passengers is not a concern in either vehicle as there is an ample amount of it. However, we have conducted careful measurements to compare the seat space between the two. The measurement data indicates a slight advantage in terms of standard seat space for the Opel. On the other hand, drivers in the Buzz sit 20 millimeters higher above the road compared to the Zafira, and there is also a greater distance to the roof. Consequently, in this aspect, the VW is slightly more recommended for individuals who are particularly tall.
Regarding the dimensions:
As suggested by the interior dimensions, the ID. Buzz is the more compact car. It measures 4.71 meters from one end to the other. The XL version, which is around five meters long, is expected to be available in the summer. In contrast, the Zafira is already 4.96 meters long in its standard version. There is also an L version of the Zafira-e Life, which extends further to 5.3 meters. However, opting for the L version comes with an additional cost of 825 euros, despite having otherwise identical equipment.
Zafira-e Life / ID. Buzz dimensions
| | | |
| --- | --- | --- |
| Dimensions (mm) | Opel Zafira-e Life | VW ID. buzz |
| length | 4,956 | 4,712 |
| width min./max. | 2,010/2,204 | 1,985/2,212 |
| Height | 1,890 | 1,927 |
| wheelbase | 3,275 | 2,989 |
The Opel Zafira-e faces some challenges when it comes to driving performance, particularly in comparison to its combustion engine counterparts. The electric components of the Zafira-e are sourced from the Stellantis unit shelf, with the electric motor being the same as the one used in smaller models like the Corsa E. As a result, the Zafira-e's power output is limited to 100 kW/136 hp, which can be considered modest for a larger vehicle.
The Zafira-e's dynamic capabilities are correspondingly modest due to this power limitation. However, it should be noted that the Zafira-e benefits from the instantaneous torque characteristic of electric motors, which provides a quick acceleration experience, especially in urban driving conditions.
It is important to note that the Zafira-e's performance is more suitable for city driving rather than high-performance scenarios. The vehicle's power output may not be sufficient for demanding driving situations or for those seeking a particularly sporty driving experience. However, in urban environments where quick acceleration from a standstill is often required, the Zafira-e's instant torque can provide a responsive driving experience.
The Opel Zafira-e may not offer the same level of driving performance as some combustion engine vehicles, it can still deliver a satisfactory driving experience, particularly in urban areas where its instant torque and quick acceleration can be advantageous.
Zafira-e Life / ID. Buzz driving performance
| | | |
| --- | --- | --- |
| Mileage (measured values ​​ams) | Opel Zafira-e Life | VW ID. buzz |
| 0-50km/h(s) | 4.2 | 3.7 |
| 0-80km/h(s) | 9.0 | 6.9 |
| 0-100km/h(s) | 14.1 | 10.1 |
| 60-100 km/h (s) | 8.6 | 5.5 |
| 80-120km/h (s) | 13.0 | 7.5 |
| vmax (factory specification) km/h | 130 | 145 |
The Opel Zafira-e Life's lower curb weight, as per the factory specification of 2,140 kg (although we measured 2,396 kg in the test car), does not provide significant advantages. On the other hand, the ID. Buzz, weighing 2,481 kg (factory specification 2,471 kg), may be slightly cumbersome but possesses better initial conditions with its 150 kW/204 hp power output.
This power is effectively utilized, resulting in superior acceleration values (refer to the table above). Both models have speed limitations on the Autobahn, but the ID. Buzz, with a top speed of 145 km/h, can travel at least 15 km/h faster than the Opel. Although this may seem insignificant academically, it can offer a more pleasant experience, particularly when executing quick overtakes on the road, especially when a powerful diesel vehicle is approaching from behind.
Regarding the electrical aspect, the Opel Zafira-e Life can also be equipped with a 50 kWh battery, which reduces the car's weight by 171 kilograms. However, for the sake of comparability, we consider the Opel with the larger battery pack (75 kWh), which does not significantly differ from the VW's 77 kWh battery.
However, there is a substantial discrepancy in terms of charging speed. While both competitors can charge at an energy rate of 11 kW at an AC charging point, the ID. Buzz, with its maximum DC fast charging capacity of 170 kW, can swiftly resume its journey, while the Zafira, limited to a maximum of 100 kW, requires a longer charging hold period.
Zafira-e Life / ID. Buzz drive
| | | |
| --- | --- | --- |
| | Opel Zafira-e Life | VW ID. buzz |
| drive | Electric front-wheel drive | Electric rear-wheel drive |
| transmission | 1-speed automatic | 1-speed automatic |
| Max. power in kW / hp | 100/136 | 150 / 204 |
| Max. torque in Nm | 260 | 310 |
| Battery capacity in kWh (net) | 75 | 77 |
| Charging power AC in kW (max) | 11 | 11 |
| Charging power DC in kW (max) | 100 | 170 |
The current situation regarding consumption is becoming increasingly concerning. Despite the battery packs being of relatively similar size, the ID. Buzz outperforms Opel in terms of range. On an economically driven eco lap, our measurements indicate an average consumption of 30.6 kWh for the Zafira-e, which significantly lags behind.
In the same test mode, the ID. Buzz consumes 22.5 kWh per 100 kilometers on the road. While this may not be exceptionally economical, it is notably better when compared. Consequently, Opel owners spend considerably more time at fast chargers during long journeys, not only due to the slower charging speed but also because they need to stop recharging more frequently. Moreover, the effective range of the Opel Zafira-e is 216 km, while the ID. Buzz offers a more substantial range of 291 km (according to the ams test values in both cases).
Zafira-e Life / ID. Buzz consumption
Consumption kW/h / 100 km
(measured values ​​ams)
Opel Zafira-e Life
VW ID. buzz
Eco round
30.6
22.5
commuter round
34.1
28.4
Sporty round
41.2
32.6
Test consumption average
34.6
28.1
test range
216 km
291 km
Multimedia and instruments
The days when a color navigation system was considered cutting-edge technology in cars are long gone. Nowadays, modern electric cars, in particular, come with a standard range of contemporary infotainment features. Fully digital instruments and a sophisticated multimedia offering are expected as standard, along with additional functionalities for charging planning and locating charging points, which are essential for electric cars. Opel addresses these e-function requirements through the integrated functions of Opel Connect. On the other hand, the ID. Buzz offers these functions but at an additional cost.
The instrument panels in the Zafira-e Life, borrowed from traditional combustion models, feature charming mechanical pointers moving over scales. Technically speaking, this is not a flaw, but in today's times, it presents an unconventional picture. In contrast, VW uses a central color display located behind the steering wheel, which, however, does not boast exceptional dimensions compared to some modern smartphones with larger display areas.
Opel:
Opel has opted for mechanical round instruments with needles in their electric cars, such as the Zafira, as they were already present in their combustion engine vehicles.
The Opel Zafira-e Life incorporates a small 7-inch display in the center, and it comes standard with the Multimedia Navi Pro featuring Opel Connect. The ID. Buzz, on the other hand, offers a larger 10-inch display in the base model, but with fewer functions. The Discover Pro navigation system is technically available but can only be unlocked for an additional fee.
However, the ID. Buzz does come standard with a wireless smartphone interface for Apple CarPlay and Android Auto. If you are willing to use more affordable smartphone apps for charging planning and navigation, you can save over 1,500 euros at this point. Additionally, the ID. Buzz offers a larger 12-inch central display as an optional upgrade.
Now, let's turn our attention to the prices, as they are the crux of the matter. Both of these spacious vans are priced well beyond what an average family budget would allow for a new car purchase, even at their base prices.
The Opel Zafira-e Life's entry-level model, which comes with a large 75 kWh battery, carries a price tag of 69,250 euros. The more modern, powerful, and fuel-efficient ID. Buzz is listed at a price that is almost 4,700 euros lower, but its starting price of 64,581 euros is still a significant amount.
The Zafira provides some solace with its comprehensive standard equipment, including front massage seats and electrically operated sliding doors at the rear. The only noteworthy additional charges are for the panoramic glass roof (800 euros) and metallic paint (750 euros) for the Opel. Furthermore, the Opel offers two options for single seats at the rear, each priced at 900 euros.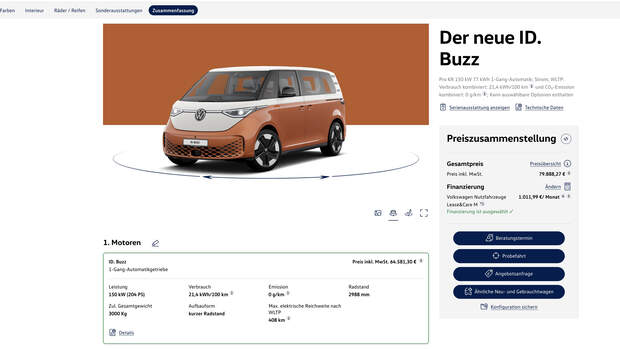 The ID. Buzz, in its basic configuration, only tells part of the story as it can easily reach the 80,000 euro mark.
On the contrary, at Volkswagen (VW), you have the option to select various features, although many options are only available as part of a package. Surprisingly, VW even charges an additional 285 euros for the standard plain white paint instead of including it in the base price. Special metallic paints range from 1,006 euros for a one-tone finish to a staggering 2,642 euros for a two-tone paint job.
The interior customization options, which include different colors and contrasts, contribute to a stylish appearance in the test cars, but they come at an additional cost of between 1,499 and 3,665 euros. The choice of packages, such as the assistance package, comfort package, and infotainment package, is extensive but expensive. Configuring the ID. Buzz with all these options can easily push the price beyond the 80,000 euro limit.
Of course, comparing the ID. Buzz with the Zafira-e Life is not entirely fair. The Zafira-e Life is based on a seven-year-old combustion engine van that has been retrofitted with electric technology, while the ID. Buzz has been designed as a fully electric vehicle from scratch, built on the modern MEB platform. Despite the aging base, the Opel Zafira (and other Stellantis derivatives like the Citroen Spacetourer or Peugeot Traveler) come with a high price tag. Additionally, the equipment on the Zafira-e Life is almost complete, whereas many desirable features are only available at substantial additional costs for the VW, making it even more expensive.
To worsen matters for the Zafira-e, it falls behind the modern VW ID in crucial electric vehicle aspects like range and charging speed, not to mention the overall driving performance. The only advantages the Opel Zafira-e has are spaciousness and flexibility, but those alone are insufficient. The ID. Buzz emerges as the clear winner. However, for the typical family seeking ample space, both models are only suitable in exceptional cases due to their high prices, ranging from 70,000 to 80,000 euros, which exceed the budget of most buyers.