The BMW Z4 M40i, priced at 60,950 euros, is due for a fuel consumption evaluation. The BMW Z4 M40i is highly appealing for several reasons. One notable aspect is the adoption of a fabric hood instead of a bulky folding top, resulting in a weight reduction of 50 kilograms.
With enhanced equipment, the M40i weighs 1,577 kilograms, precisely 30 kilograms lighter than the previous Z4 35is, which also boasted 340 horsepower. To provide further evidence of the new Z4's superiority, let's examine a few additional figures. It achieves a 0.6-second faster acceleration from zero to 100 km/h, completes the slalom at 4.6 km/h faster, and is reputed to have lower fuel consumption. Now, let's delve into the fuel and maintenance costs.
BMW states that the Z4 M40i has a WLTP standard fuel consumption of 8.4 liters per 100 kilometers with Super fuel. However, in real-world conditions, it exceeds this figure, as we have determined an average consumption of 9.8 liters, resulting in fuel costs of 16.86 euros per 100 kilometers. During an eco lap, the BMW consumed 6.9 liters, while on the regular commuting route, it consumed 9.8 liters. If the vehicle is driven in a sporty manner, the consumption rises to 13.0 liters.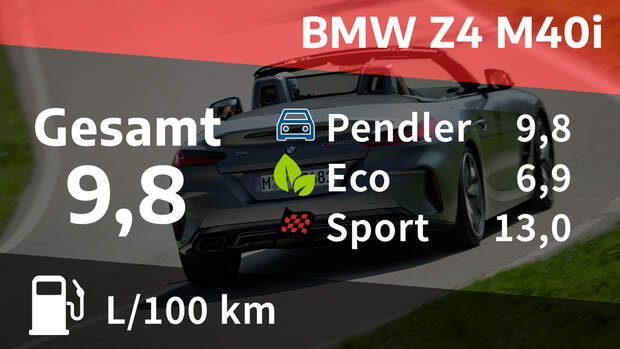 The test consumption of the vehicle is divided into three categories: 70% for the commuter round, and 15% each for Eco and Sport driving. Regarding monthly maintenance costs, if you drive the vehicle in an environmentally friendly manner, similar to our eco-lap, the fuel expenses for every 100 kilometers amount to 11.87 euros.
However, if you adopt a more aggressive driving style, the fuel costs increase to 22.36 euros for the same distance. In addition to fuel costs, the new BMW Z4 M40i incurs an annual vehicle tax of 256 euros, while liability insurance amounts to 355 euros. Partial and fully comprehensive insurance policies result in additional costs of 135 euros and 488 euros, respectively.
Individuals who drive the BMW for 15,000 kilometers per year are required to pay monthly maintenance costs of 368 euros. If the mileage doubles to 30,000 kilometers per year, the monthly maintenance costs rise to 679 euros. It is important to note that the calculation does not take into account the depreciation in value of the vehicle.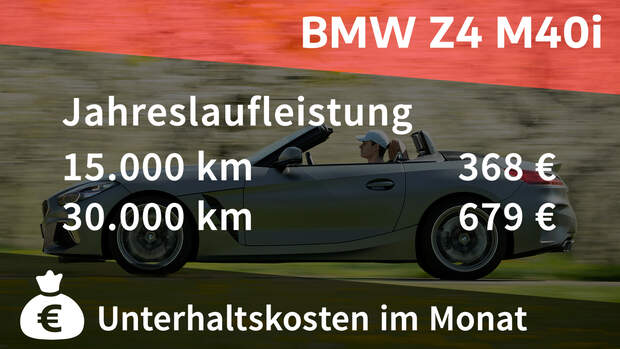 The BMW Z4 M40i, priced at a minimum of 60,950 euros, underwent testing. The test consumption was divided into three different runs, each assigned a different weightage. The "commuter consumption" accounted for 70 percent of the total, which involved a daily journey from home to work, covering an average distance of 21 kilometers.
The rating also included an eco-lap of approximately 275 kilometers, representing 15 percent of the overall consumption evaluation. Additionally, a sports driver lap of similar length to the eco-lap was included, with a larger proportion of highway driving and higher average speeds, contributing to 15 percent of the evaluation. The calculation of fuel costs was based on the price provided by the "more taken" portal on the day the article was created.
The monthly maintenance costs encompassed expenses related to maintenance, costs of worn parts, and vehicle taxes. These costs were calculated assuming an annual mileage of either 15,000 or 30,000 kilometers, without considering any loss of value. The calculations were based on the test consumption results, a three-year ownership period, a no-claims class SF12 for liability insurance, and comprehensive insurance with Allianz.
Discounts for garage parkers and limitations on drivers (excluding those under 21) were also taken into account. Allianz offers a discount rate of 34 percent for liability insurance and 28 percent for comprehensive insurance to policyholders with SF12.
Based on the test consumption, the BMW Z4 M40i, priced at 60,950 euros, recorded an average fuel consumption value of 9.8 liters per 100 kilometers. This implies fuel costs of 16.86 euros for covering this distance. The monthly maintenance costs amount to 368 euros for an annual mileage of 15,000 kilometers, and 679 euros for an annual mileage of 30,000 kilometers.
Technical specifications
| | |
| --- | --- |
| | BMW Z4 M40i |
| Basic price | €61,900 |
| External dimensions | 4324x1864x1304mm |
| Trunk volume | 281L |
| Displacement/engine | 2998 cc / 6 cylinder |
| Performance | 250 kW / 340 hp at 5000 rpm |
| Top speed | 250km/h |
| 0-100km/h | 4.3s |
| Consumption | 7.4L/100km |
| Test consumption | 9.8L/100km |
Show all technical data