In this review, we will compare the new Toyota Yaris Cross, the recently introduced VW Taigo, and the Ford Puma. These three compact cars are known for their clever features, fuel efficiency, affordability, and safety. However, we will also explore their unexpected talents during the test.
Ford: Puma cum laude?
The Puma's Unique Talent: The most distinctive feature of the Ford Puma is its ability to accommodate tall objects. It can carry items such as apple trees or fir trees, as long as they are not taller than 115 cm. This is made possible by the Puma's spacious trunk, which features a cavernous megabox with a drainage system. However, when it comes to interior space, the Puma falls short. The short 4.19-meter length of the car limits legroom in the rear seats, making it more suitable for shorter journeys and close proximity between passengers. The driver and front passenger, on the other hand, enjoy well-designed seats that strike a balance between comfort and space.
Interior Features and Controls:
The arrangement of buttons and controls in the Puma is characterized by its spacious design, extending even between the front seats. This layout includes buttons for various functions, including the inconspicuous driving modes. Most of the controls are organized through small buttons on the steering wheel or a well-structured touchscreen. Despite the relatively simple controls, familiarizing oneself with their placement and functionality can be engaging.
Driving Experience:
The Ford Puma provides an entertaining and engaging driving experience, even during short trips. Its precise and responsive steering enhances agility, allowing it to take corners with confidence and exhibit a slight rear-end sway during weight transfers. This behavior encourages drivers to push the car's limits without feeling overwhelmed.
The small 1.0-liter three-cylinder turbocharged gasoline engine provides strong acceleration and maintains its performance over time. Despite being a decade-old design, the engine has gained efficiency and power, along with international recognition and the recent integration of a mild hybrid system.
This system features a belt-driven starter, powered by a 10 Ah 48-volt lithium-ion battery, which enhances low-end torque by 50 Nm during initial acceleration. The additional power enables the use of a larger turbocharger, resulting in spirited performance while maintaining acceptable fuel efficiency (6.9 l/100 km in the test). The seven-speed dual-clutch transmission, although lacking paddle shifters or a manual mode, operates smoothly during starts and gear changes.
Ride and Comfort:
While the Puma's suspension is tuned slightly stiffer than its sibling, the Fiesta, its rear compound-link axle, larger shock absorbers, and stiffer bushings effectively control body movements, body roll, and suspension travel.
However, the Puma's ride comfort could benefit from improved refinement, as it can feel harsh over short bumps while managing longer undulations with better composure. It remains to be seen whether Puma's competitive pricing compensates for this aspect.
The Ford Puma impresses with its unique ability to accommodate tall objects and provides an engaging driving experience. Its well-designed interior controls and compact size make it a practical choice for everyday driving. While its ride comfort could be improved, Puma's overall performance, efficiency, and affordability position it as a strong contender in the compact car segment.
Toyota: Yaris-Bestleistung?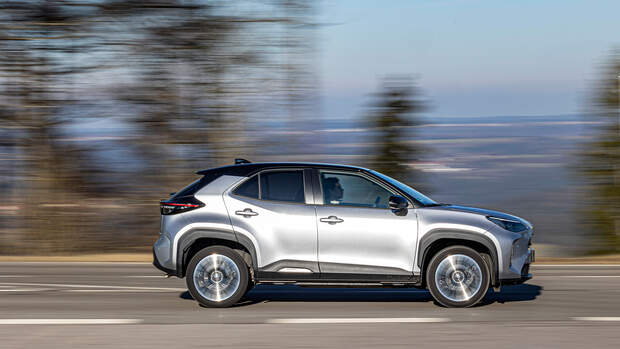 Achim Hartmann
The Toyota Yaris Cross 1.5 VVT-iE Hybrid is a notable departure from its predecessor, showcasing a transformation from a timid hatchback to a confident city SUV. With its efficient hybrid technology and enhanced dimensions, the Yaris Cross offers an appealing blend of versatility and fuel economy.
Distinctive Design and Enhanced Dimensions: The Yaris Cross stands out with its distinct design and increased dimensions compared to the regular Yaris. While it shares the same Toyota Global Small Car platform, it is 9.5 cm taller, 2.0 cm wider, and 24 cm longer, all while maintaining the same wheelbase. This larger footprint allows for a more spacious interior and a notable increase in cargo capacity. The rear seats can be conveniently folded in a 60/40 split, expanding the already generous 397-liter trunk space.
Elevated Driving Experience: The Yaris Cross offers an elevated driving experience by positioning the driver and passengers 6 cm higher than in the regular Yaris. However, the comfort level of the seats is compromised due to their weak contouring and limited lumbar support. Despite this drawback, the intuitive controls and easily accessible steering wheel buttons for the wide range of standard driver-assistance features enhance the overall user experience.
Minimalistic Interior and Lightweight Construction: Toyota has taken a minimalist approach to the interior design of the Yaris Cross, prioritizing functionality over aesthetics. This approach, coupled with the lightweight construction techniques employed by the engineers, results in a cabin that may appear somewhat plain compared to its competitors. The extensive use of thin sheets of metal on the reinforced body structure, along with limited sound insulation, allows the driver to fully experience the varying sounds produced by the hybrid powertrain.
Efficient Hybrid Powertrain: The Yaris Cross 1.5 VVT-iE Hybrid boasts an efficient hybrid powertrain that contributes to its impressive fuel economy. With a power output of 116 PS and a torque of 141 Nm, the hybrid system optimizes the coordination between the electric motor and the gasoline engine. This synergy results in a test consumption rate of 5.8 liters per 100 kilometers, offering a balance between performance and efficiency.
The Toyota Yaris Cross 1.5 VVT-iE Hybrid presents a compelling option for those seeking a versatile and fuel-efficient city SUV. With its transformed design, increased dimensions, and efficient hybrid powertrain, the Yaris Cross offers an attractive package that combines practicality, economy, and reliability associated with the Toyota brand.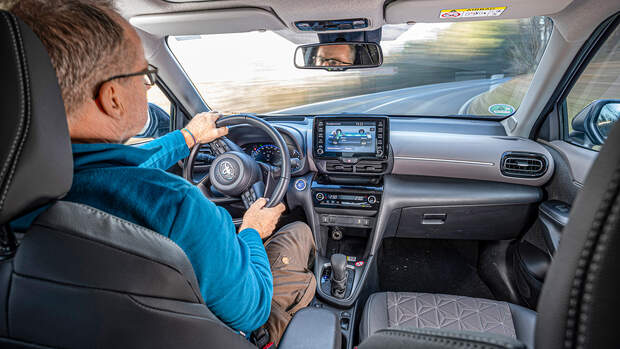 Efficiency Advantage of the Yaris
The Yaris excels in terms of efficiency, showcasing impressive fuel consumption figures. With a tester consumption of 5.8 l/100km, it requires 1.1 liters less than the Ford and even 1.4 liters less than the already economical VW. This achievement is truly remarkable.
Powertrain and Efficiency Features
The Yaris boasts a 1,500cc three-cylinder naturally aspirated engine, delivering 92 horsepower and 120 Nm of torque. Toyota claims that the engine's efficiency is enhanced by employing the Atkinson cycle and high compression, resulting in a thermal efficiency of 40 percent. Assisting the engine in its modest power delivery is an electric motor with 59 kW and 141 Nm of torque.
However, the electric motor only kicks in if the 27 kg lightweight 800 Wh lithium-ion battery has collected enough energy through regenerative braking. Under light loads and up to 130 km/h, the electric motor can momentarily propel the vehicle independently. In city driving, the transition between the combustion engine and the electric motor is seamless.
However, on highways and rural roads, the three-cylinder engine struggles to deliver satisfactory performance, primarily due to the high revs allowed by the transmission (planetary gear set). The Yaris's real highlight remains its efficiency, achieving 5.8 l/100 km in testing.
Handling and Ride Quality
The Yaris does not evoke a sense of excitement or spirited handling. It exhibits early understeer, and its steering lacks both precision and feedback. While the Yaris provides a safe driving experience, it feels unsettled and imprecise during more spirited driving. The firm suspension setup does little to enhance agility but does reduce body movements. However, it compromises comfort, especially when equipped with 18-inch wheels, resulting in a noticeably harsh ride. The suspension's response to short irregularities is unduly coarse.
Value for Price and Equipment
Initially, the price may appear unfavorable; however, considering the extensive standard equipment, the Yaris's pricing becomes more reasonable. It remains to be seen if the Yaris can live up to its promising features.
VW: Taigo, -go, -go, -go?
Introducing the Taigo in comparison to the old VW Passat
To better understand the true dimensions of the Taigo, let us briefly go back to 1988. It was during that time that VW introduced the first Passat with a transverse engine, the B3, widely known as the "Nasenbär" (nose bear). It evolved into the B4 in 1993 and was regarded as a spacious mid-size car until its replacement in 1997. It offered 72 cm of rear seat legroom and a 465-liter trunk capacity in the wagon variant.
Now, with a drumroll and confetti raining down, the Taigo takes the stage, featuring 71 cm of rear seat legroom and a 440-liter trunk capacity. This impressive feat is accomplished despite being over 30 cm shorter than the Passat. It serves as an excellent example of real, everyday progress and showcases the space efficiency of VW's compact MQB A0 platform.
The Taigo is an SUV coupe developed by VW's Brazilian division, originally named Nivus, and now Europeanized to compete as a sportier version of the T-Cross. It is 16 cm longer and 9 cm lower than its predecessor. In addition to the latest safety features, the Taigo offers matrix LED headlights and a vibrant interior.
Although the interior may not exude the same level of premium quality as expected from VW, the Taigo surpasses the other vehicles in terms of material selection. Furthermore, its advantage lies in its generous amount of interior space. The rear bench, with its ample cushioning, comfortably accommodates two adults and even three when needed.
VW equips the cockpit with large, supportive, and long-distance comfortable seats. Few vehicles, including the Golf, can match the Taigo's passenger comfort. The Taigo's updated infotainment system and touch-sensitive climate control buttons, albeit lacking haptic feedback, make it no more difficult to operate than the Golf.
A Well-Executed Overall Package
In summary, the Taigo impresses with its space efficiency, well-designed interior, and abundant features, presenting a compelling overall package for potential buyers.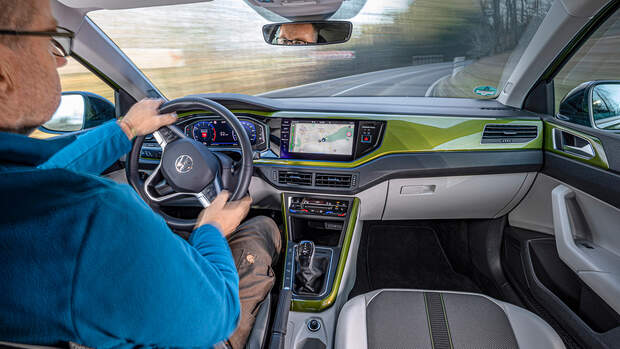 The Volkswagen Taigo outperforms its two competitors in terms of driving dynamics. It completes the slalom and lane changes significantly faster than the others. It also excels in terms of comfort and interior space, surpassing the competition.
Comfort and Suspension Setup
The Taigo proves to be a compact car with a generous demeanor. This is particularly evident in its comfort levels. The suspension, with its slightly tightened setup, responds somewhat harshly only on short, rough uneven surfaces, effectively absorbing fewer jarring impacts and long waves with care. Despite its careful tuning, the Taigo also demonstrates impressive handling capabilities.
Comparing the Puma's Handling
The Ford Puma may create a more dramatic experience with its sharper steering and dynamic weight transfer. However, when it comes to driving dynamics tests such as the slalom and lane changes, the Taigo is significantly faster and exhibits greater composure on the open road. Its steering response is slightly gentler but equally precise and communicative. The Taigo remains unfazed by weight shifts, confidently navigating corners with the assistance of the simulated XDS electronic differential lock and the consistent power delivery of its eager three-cylinder engine.
Powertrain Comparison
Unlike its counterparts, the VW Taigo does not rely on an electric motor for assistance. Instead, it is powered by a refined 1.0-liter direct-injection engine and a precise seven-speed dual-clutch transmission. Despite its lower overall power output, this combination provides spirited performance for the 1,253 kg Taigo. However, it registers a test consumption of 7.2 l/100 km, which is 0.3 l/100 km higher than the faster Ford and a substantial 1.4 l/100 km more than the Yaris.
Range and Pricing Considerations
Additionally, the Taigo, like the other two models, features a small fuel tank, resulting in a range of only 555 km. However, this is particularly bothersome in the case of the Taigo, as it otherwise demonstrates exceptional long-distance capabilities and emerges as the winner in this category. Its qualities easily compensate for its relatively sparse equipment compared to the lavishly appointed Yaris. The price tag of nearly 30,000 euros for such a fully-fledged compact car is justified and even more surprising.
VW Taigo 1.0 TSI 587 points
With ample dimensions: Offering comfort, safety, and interior space typically found in larger compact cars. Agile handling, a lively engine, but cumbersome controls, and basic equipment.
Ford Puma 1.0 EcoBoost 564 points
With firm regards: Delivering responsive handling and a spirited engine, but compromising on comfort and limited space. The Puma stays true to its compact nature, making it practical and affordable.
Toyota Yaris Cross 1.5 VVT-iE Hybrid 549 points
With the best cruising experience: Encouraging a relaxed driving style with its highly efficient yet less spirited hybrid powertrain. Comprehensive assistance systems, but harsh suspension and higher price.
Technical Specifications
VW Taigo 1.0 TSI Style
Ford Puma 1.0 EcoBoost Hybrid Titanium X
Toyota Yaris Cross 1.5 VVT-iE Hybrid Elegant
Basic price
31.335 €
31.200 €
32.690 €
External dimensions
4266 x 1757 x 1518 mm
4186 x 1805 x 1536 mm
4180 x 1765 x 1595 mm
Trunk volume
Displacement / engine
999 cm³ / 3-Zylinder
999 cm³ / 3-Zylinder
1490 cm³ / 3-Zylinder
Performance
81 kW / 110 PS bei 5500 U/min
92 kW / 125 PS bei 6000 U/min
68 kW / 92 PS bei 5500 U/min
Top speed
191 km/h
190 km/h
170 km/h
0-100 km/h
10,9 s
9,9 s
12,2 s
Consumption
Test consumption
7,2 l/100 km
6,9 l/100 km
5,8 l/100 km