The Honda e Limited Special Edition represents a unique offering in the electric car market, showcasing a collaboration with Formula 1 champion Max Verstappen as its advertising figure. With a production limit of only 50 units for the European market, this exclusive model combines distinct design elements with enhanced power and advanced features. Priced at €41,900, the Limited Edition offers a modest premium over the fully equipped standard model, making it an enticing choice for enthusiasts seeking exclusivity in their electric vehicles.
Distinctive Design Features:
The Limited Edition of the Honda e sets itself apart through carefully curated design details. Adorned in striking Premium Crystal Red Metallic paintwork, complemented by black accents, this electric vehicle exhibits an air of sophistication. Additionally, the 17-inch model features a fully blacked-out appearance, distinguishing it from the standard variant. An eye-catching black "Honda e" lettering on the rear serves as an exclusive identifying characteristic, adding further allure to this special model.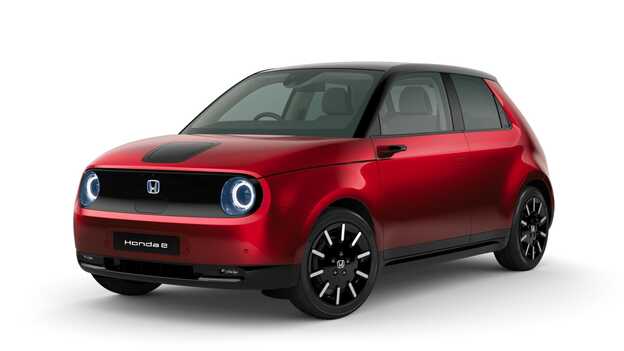 Enhanced Equipment and Performance:
To provide an enhanced driving experience, Honda equips the Limited Edition with the €4,150 "Advance" package. This comprehensive level of equipment includes sought-after features such as seat heating, a park pilot, camera-based exterior mirrors, tinted windows, a panoramic glass roof, LED headlights, an interior mirror with a camera system, keyless go, and a large display in the cockpit.
Moreover, the power output of the Limited Edition has been increased from 136 to 154 horsepower, delivering an exhilarating performance. The 35.5 kWh battery offers a range of up to 220 kilometers and can be conveniently charged using a CCS plug with a maximum output of 56 kW.
Availability and Market Outlook:
Enthusiasts eager to own the Honda e Limited Special Edition can place their orders through authorized retailers starting from June 29, 2022. Given the limited production quantity, prospective buyers may need to act swiftly to secure one of the coveted 50 units allocated for the entire European market. Although the Honda e may not be considered a bestseller, with only 1,256 units sold in Germany in 2021, its retro appeal and exclusivity make it an enticing option for discerning customers across Europe.
Conclusion:
The Honda e Limited Special Edition represents a fusion of exclusivity and performance, accentuated by its collaboration with F1 champion Max Verstappen. With its distinct red paint finish, black accents, and additional features, this limited edition offers customers a unique and captivating driving experience. Priced competitively at €41,900, it provides an opportunity for electric car enthusiasts to own a truly exclusive and stylish vehicle, showcasing Honda's commitment to innovation and design excellence in the electric vehicle market.