Mazda employs various strategies to keep its eight-year-old compact car fresh and up-to-date. Despite the passage of time, Mazda continuously introduces updates and improvements to ensure the vehicle remains modern and appealing to consumers. One such recent update is the introduction of the G 115 mild hybrid model.
The term "mild hybrid" is somewhat misleading for this particular vehicle, as it utilizes a 22.5 V system. This system incorporates a belt starter with a power output of 5.3 kW, primarily assisting the engine by taking over the energy supply from the onboard network. This arrangement allows the engine to maximize its power and efficiency for propelling the vehicle forward.
Notably, the petrol engine employed in this Mazda model is quite impressive compared to others in its class. It is a four-cylinder, naturally aspirated engine with a displacement of 1,496 cubic centimeters. To put this into perspective, even the Volvo XC40 T2, a vehicle made of Swedish steel, has a smaller engine displacement, measuring 19 cm³ less than the Mazda's engine.
Very efficient drive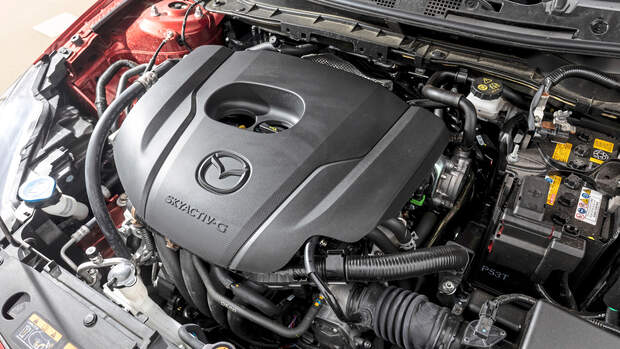 The engine in question demonstrates strong persuasive qualities. While it may not possess extraordinary performance capabilities, it is highly efficient, making it a favorable choice for the Mazda 2.
The engine has been optimized for efficiency rather than sheer power. It operates at a compression ratio of 15:1 instead of the previous 13:1, and the intake air is strategically rotated to enhance the fuel-air mixture, leading to more uniform combustion.
This adjustment is expected to reduce fuel consumption by eleven percent. During testing, the engine demonstrated a fuel consumption rate of 5.5 liters per 100 kilometers, which is one liter (or 15 percent) lower than the previous 115-horsepower Mazda 2 model we evaluated.
Furthermore, the new engine enables the vehicle to accelerate 0.6 seconds faster to reach a speed of 100 kilometers per hour. However, considering the lightweight nature of the Mazda 2, one might expect the 115-horsepower engine to provide a bit more liveliness.
Despite the relatively short gear ratios of the precise six-speed transmission, the engine's performance remains consistently smooth, lacking the thrilling and spirited acceleration one might anticipate. Nonetheless, the precise and seamless steering, combined with occasional playful shifts in the rear load distribution, contribute to the overall enjoyment and light-heartedness of the vehicle's handling.
Old interior concept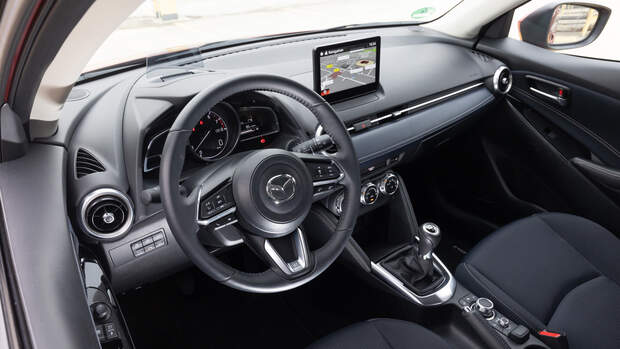 The interior of the vehicle appears outdated. It lacks modern features such as a digital speedometer and touch-operated controls. Instead, it utilizes rotary switches for climate and navigation functions. However, this may not necessarily be a disadvantage.
The choice of materials used in the interior seems somewhat careless. For instance, the rear seating consists of a narrow, thinly padded bench, and the doors are made of thin metal. The comfort level of the Mazda 2 is also lacking. It produces a loud noise at high speeds and does not handle bumps well. Despite this, the interior design showcases a modest elegance, considering the luxurious features it offers. These features include heated seats and steering wheel, automatic air conditioning, phone integration, and a well-positioned set of assistant features. There is even an option to have Matrix LEDs with 20 LED units per headlight, ensuring a glare-free permanent high beam.
Although these features are enlightening, it doesn't change the fact that the Mazda 2 has been slow to keep up with the ever-evolving automotive industry. It appears to be lagging behind in terms of technological advancements.
The Mazda 2 is a suitable choice for individuals seeking a compact car with a full range of class features. However, it is worth noting that it may feel cramped and expensive. Furthermore, considering its power output of 115 horsepower, one might expect a more exhilarating driving experience.