According to popular belief, greatness can be found in the small things, and we share this sentiment. Despite its compact size of only 3.85 meters, the impact left by the Mini Cooper SE on our editorial team is significant.
The electric vehicle has garnered a dedicated following, with enthusiasts displaying their admiration through gestures such as flying the Union Jack flag at half-mast when the Mini Cooper SE, with its vibrant multitone roof and taillights that match the flag, makes its final appearance.
This particular vehicle has undergone extensive testing, enduring a journey of 16,400 kilometers before returning to Munich, its place of origin, where it was initially introduced to us in June 2021.
The performance of the Mini Cooper SE during this extensive liaison can be described as excellent, which comes as no surprise given that the F55/56 model has successfully transitioned into a fully electric SE variant.
This transition has been highly regarded by many, as they consider it to be the best Mini ever produced. While it may lack the exhaust pops and turbo hissing found in its predecessors, the Mini Cooper SE compensates with a refined and powerful electric motor that captivates drivers from the very first meter.
The vehicle delivers full torque from a standstill, ensuring a seamless boost with no delays or interruptions typically associated with traditional turbocharged engines. The driving experience is smooth, sophisticated, and refined. Despite being slightly slower in the sprint to 100 kilometers per hour compared to the Cooper S, which is six horsepower weaker, the Mini Cooper SE subjectively feels more agile and responsive.
The electric motor of the Mini Cooper SE generates 270 Newton meters of torque and 184 horsepower, delivering instant power whenever required, whether it be during quick traffic light sprints (0-50 km/h in 2.8 seconds) or brief bursts of acceleration.
However, in certain driving conditions, the steering response may be affected by external factors, particularly in Sport mode or on slippery roads, where tire grip can struggle to cope with the torque. This issue is more pronounced when equipped with Dunlop winter tires.
Nevertheless, the handling remains enjoyable, precise, and secure. The relatively light weight of the vehicle, just under 1.4 tons, combined with its unique multi-link rear axle and low center of gravity resulting from the T-shaped battery pack integrated into the car floor, contribute to its dynamic capabilities. The Mini Cooper SE maintains a poised and composed demeanor on the road, even demonstrating slightly more confidence compared to its lighter combustion engine counterparts.
Furthermore, the Mini Cooper SE incorporates a hybrid-excited synchronous motor, specifically the IB1P23M0, which was originally developed for the BMW i3 electric vehicle. This motor, positioned under Mini's hood, provides an energetic punch. Unlike permanently excited synchronous motors that do not require additional current, this motor utilizes fewer neodymium permanent magnets and operates more efficiently at low speeds compared to asynchronous motors.
The electric motor, weighing approximately 50 kilograms, also benefits from the reluctance effect, a self-magnetization phenomenon that maintains a constant magnetic field throughout the speed range. This enables the motor to deliver smooth acceleration at higher engine speeds, despite having a single-speed gearbox, up to its governed top speed of 150 km/h, while also conserving electricity consumption.
Jens Dralle, the Head of Test and Technology, stated, "The Mini, as an SE model, has regained its liveliness, which it lacked in the past."
During the summer, the Mini SE consumes 12.4 kWh per 100 kilometers when driven cautiously. In typical commuter traffic, the consumption increases to around 18 kWh, and with a sporty driving style, it goes up to a respectable 23 kWh. On average, the test results indicate a consumption of 18.4 kWh, providing a range of 179 kilometers.
However, it is possible to achieve a range of over 260 kilometers if one is willing to disregard the low battery level warnings on the display. In long-term everyday tests involving a mix of city and country traffic, the displayed ranges typically fall between 180 and 280 kilometers. In winter conditions, these ranges decrease to 150 to 180 kilometers, even when using the eco mode sparingly.
It's worth noting that electric car consumption values tend to vary more than those of combustion engines due to the dual impact of temperature. Cold temperatures reduce battery performance while heating the interior consumes significant electricity. In contrast, in a combustion engine, this heating is generated as a byproduct. Though not entirely without cost, it is already factored into the overall efficiency.
Regarding calculations, the Mini SE's battery has a gross capacity of 32.6 kWh, but the net capacity is 29 kWh. Taking into account charging losses, the long-term test conducted on the Mini SE required drawing 32.56 kWh of energy from completely empty to completely full using an 11 kW wall box charger (with all three phases operating at a maximum of 15.8 amps).
The charging process took 3 hours and 25 minutes. Naturally, charging time is significantly reduced when using a 50 kW fast charger, especially considering that the Mini SE maintains a high charging power of approximately 45 kW for an extended period before gradually decreasing towards the end. Consequently, charging the battery from nearly empty to 80 percent using a fast charger can be accomplished in less than half an hour, ensuring a swift recharge.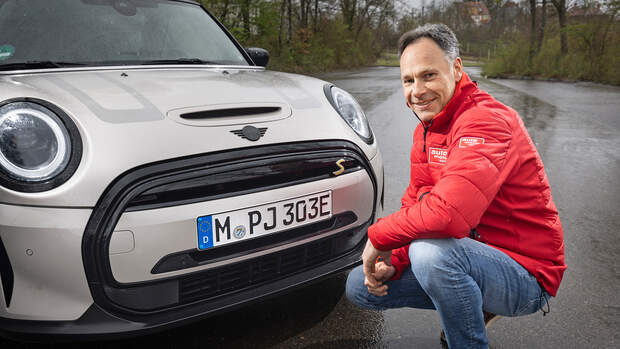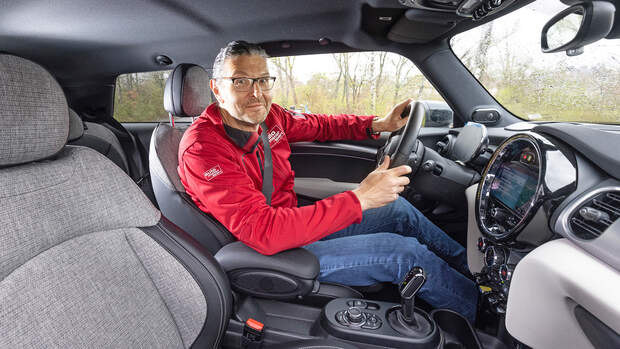 Edwin Meister, the Head of the Database, asserts that the space inside the Mini is ample even for individuals who are tall, measuring two meters in height, and have experience with cramped environments.
Apart from that, the operation of the Mini functions smoothly. The integration of a rotary pushbutton, buttons, touch screen, and voice control operates seamlessly after a brief period of familiarization. The system's rapid responses are impressive during extended usage tests, as are the user-friendly on-screen menus. However, the most noteworthy aspect is its exceptional operational reliability. There are no malfunctions or sudden system failures, which is not necessarily common in today's technology-driven era.
The toggle switches featured in the Mini evoke memories of earlier times. One of these toggles controls the two-stage recuperation system, allowing for either one-pedal driving or a largely unrestricted rolling experience, with active recuperation occurring when the brake pedal is engaged. The control and transition to traditional braking mechanisms are precise, ensuring a transparent and satisfactory experience for users.
Likewise, there are no complaints regarding the seating comfort in the front of the vehicle. The sports seats accommodate drivers of various sizes comfortably. However, the rear seating area, which can be somewhat challenging to access, is suitable at best for short trips. The trunk offers a capacity of 211 liters, making it suitable for short journeys, albeit limited in terms of space.
It is difficult to resist the charm of the Mini Cooper SE, especially considering its relatively light weight of 1.4 tons. The vehicle impressively combines spontaneous and refined electric power with agile handling and an appealing appearance, without necessitating significant compromises for this enjoyable driving experience. However, it should be noted that the range of the vehicle is between 180 and 250 kilometers, which may need to be taken into account. Notably, the Mini Cooper SE boasts exceptional operational reliability, with no reported issues or software malfunctions.
Technical specifications
| | |
| --- | --- |
| | Mini Cooper SE Classic Trim |
| basic price | €37,300 |
| external dimensions | 3845x1727x1414mm |
| trunk volume | 211 to 731L |
| top speed | 150km/h |
| consumption | 0.0kWh/100km |