The Mitsubishi Space Star has garnered attention as a used vehicle option despite its inconspicuous nature. Although it was initially known for its affordability during discount campaigns, it has achieved long-term success and become Mitsubishi's bestselling model since its introduction in 2013, with a total of 148,145 units sold in Germany. In 2021 alone, 21,820 new cars were sold in the country.
According to the Federal Motor Transport Authority (KBA), the Space Star ranked tenth among all import models in terms of power. Furthermore, the KBA's 2021 statistics reveal that the Space Star had a significant market share of 74.1 percent for private registrations, securing second place after the Dacia Sandero (86.7 percent). Additionally, it boasted the highest proportion of female buyers among all new private registrations, standing at 56.8 percent. These statistics indicate that the Space Star, despite its unassuming appearance, has attracted attention and interest.
Jürgen Lindemann, the managing director of the Lindemann car dealership in Beinstein, Swabia, shares this perspective, stating that the Space Star is in high demand, and they rarely have a used model in their inventory for more than a week. As an authorized Mitsubishi dealer since 1978, their dealership has the privilege of inspecting a used 2015 Space Star before final delivery.
The basic one-liter dominates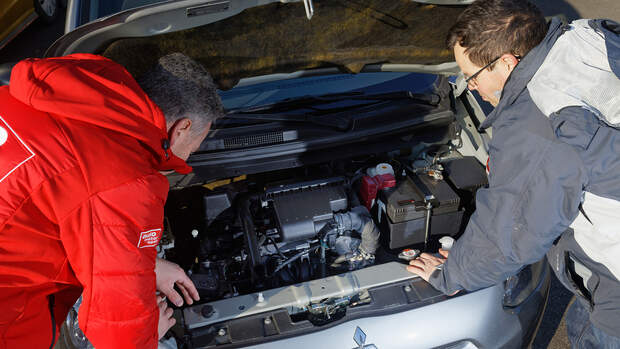 The one-liter three-cylinder engine in the Space Star offers good fuel efficiency. However, it is not ideal due to its lack of insulation, which causes excessive noise levels.
The specific vehicle being discussed is a well-maintained example from the first generation of the model, and it has covered a mileage of 32,000 kilometers. Under the hood, the one-liter three-cylinder engine produces 71 horsepower, which is responsible for powering nearly two-thirds of all Space Star vehicles.
This indicates that a majority of buyers primarily use this car for city driving purposes and prioritize cost-effectiveness. Traditionally, the 80-horsepower 1.2-liter engine has been associated with higher-end and consequently more expensive trim levels.
However, this changed recently as the Space Star has been exclusively offered a lower-power 1.2-liter engine since last year. This engine variant retains the same 71 horsepower output but delivers higher torque compared to the previous base engine.
The automatic version of the Space Star with a continuously variable transmission (CVT) is expected to benefit from improved torque characteristics. Currently, around twelve percent of all Space Star models sold are equipped with the CVT transmission. While it provides a comfortable driving experience in urban areas, it becomes less desirable during highway driving due to the engine's loud noise during acceleration and the somewhat sluggish performance. Furthermore, the CVT transmission is only available in conjunction with the highest trim level.
In terms of market demand, the small four-door Space Star model has never been highly sought after. More than 80 percent of units were sold as discounted special editions, and basic versions sold at significantly reduced prices accounted for 14 percent of sales. This demonstrates that the Space Star's customer base is focused on making rational purchase decisions. While buyers of Dacia vehicles often opt for higher trim levels, they typically forego trendy extras that might be considered essential in today's small car market.
Safety package always standard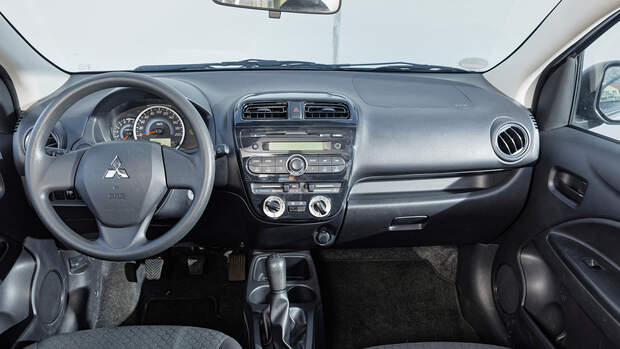 The Space Star, a used vehicle owned by the Lindemanns, embodies a practical and straightforward approach in terms of materials and operation. The sturdy and visually appealing hard plastic cockpit presents no complexity or mystery.
This particular model of the Space Star serves as an exemplary choice, striking a balance between features and affordability. Equipped with air conditioning, a CD radio, an onboard computer, and electric front windows, it fulfills all essential requirements. Moreover, it boasts an extensive safety package, including ESP (Electronic Stability Program) and six airbags, ensuring optimal safety for passengers.
Even taller individuals will find the front seats adequately accommodating, albeit lacking in pronounced contours. The rear space is also satisfactory, providing easy access and comfortably accommodating at least four people for shorter journeys without any discomfort.
The interior showcases a notable amount of hard plastic, particularly in the well-arranged cockpit. While some may perceive this as a utilitarian measure lacking aesthetic appeal, it can be viewed differently. Particularly with a globally marketed vehicle like the Space Star, which must withstand extreme climatic conditions, the presence of hard plastic surfaces has the advantage of maintaining their original condition over many years. This is not always the case with modern soft-painted interiors, making it a practical choice.
However, during the test drive, the Space Star reveals where cost-cutting measures were employed, such as inadequate noise insulation. The audible sound of the small three-cylinder engine intensifies as the speed increases, accompanied by noticeable chassis rumbling, especially on uneven road surfaces. The Mitsubishi lacks any sporty aspirations, and the smooth yet indirect steering lacks precision and feedback. Additionally, the suspension system lacks proper damping, and the one-liter engine lacks enthusiasm.
These are the objective facts that car testers should not overlook. Nonetheless, every prospective buyer must decide for themselves whether these factors influence their purchase decision. Considering the typical target market for the Space Star, primarily comprising young beginners and individuals aged 50 and above, the car's dynamic driving limitations are of secondary importance. The primary focus for those interested in this urban runabout is safety, fuel efficiency, and reliability.
In these regards, Mitsubishi's smallest offering fulfills all expectations. The thrifty three-cylinder engine exhibits impressive fuel efficiency, and with conscious driving, it is possible to achieve consumption values of less than five liters per 100 kilometers. Moreover, the required inspections every 20,000 kilometers do not significantly impact the owner's budget.
Bernd Lindemann, a master mechanic and workshop manager, explains that maintenance costs range from just under 200 euros to slightly over 300 euros, depending on mileage and the extent of maintenance. He emphasizes that the Space Star's technology is not only robust but also user-friendly for mechanics, with all components easily accessible. To demonstrate this, he proceeds to drive the car onto a lifting platform for visual inspection.
Reliable technology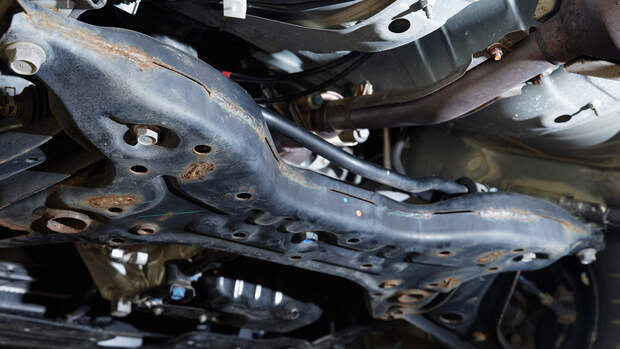 The analysis reveals that only the axle components and the front subframe exhibit signs of rust, but this has not yet impacted the overall durability of the vehicle. Remarkably, upon closer examination, the underbody appears to be in good condition even after seven years. Despite lacking protective wax and being solely primed underneath, the bodywork's exposed edges and cavities remain free from corrosion.
It is evident that this is the area where manufacturers prioritize cost-saving in the production of such affordable cars, compromising durability in the process. Therefore, when assessing a used Space Star, a thorough inspection of the underbody becomes imperative, despite the twelve-year warranty against rusting through.
Furthermore, notable observations include the front brake discs, which exhibit significant wear, and the exhaust system comprising a single unit with a catalytic converter, middle section, and rear silencer. However, as stated by Bernd Lindemann, replacement of these components has never been necessary for a Space Star. Should replacement be required, the current cost for a new part amounts to "404 euros plus tax."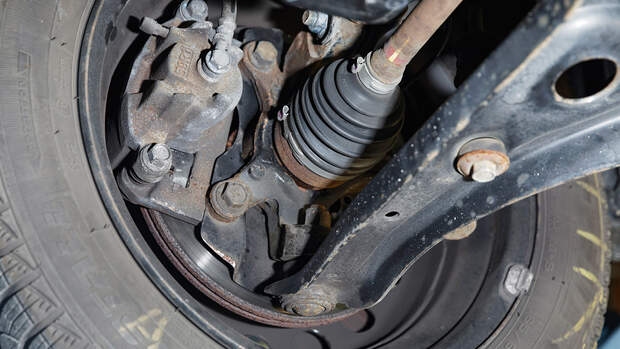 Despite their lightweight construction, the brake discs of the vehicle exhibit a tendency to wear out rapidly. This issue has been noted by both Lindemann customers and Mitsubishi enthusiasts in online forums. Discussions primarily revolve around concerns such as brake wear, insufficient ventilation, delayed engagement, inconsistent clutch performance, and problems related to clogged heat exchangers. Bernd Lindemann, having experienced the latter issue, explains that early models up to 2015 were affected by production residues obstructing the heat exchanger. Fortunately, the faulty heat exchangers were replaced under warranty, even for some of their customers. A recall was initiated in 2019, during which the automatic start-stop system's control unit received updated software, addressing the problem at hand.
Thankfully, the Space Star remains mostly unaffected by other technological issues, such as elongated timing chains, gearbox damage, or oil loss. The reassurance of a five-year guarantee further adds to its appeal. The secret to the unassuming Space Star's success lies in its ability to minimize technical complications, matching its inconspicuous appearance.