Munro Vehicles, a Scottish start-up based in Glasgow, is developing the Mark 1, an all-electric off-road vehicle designed to excel in off-road conditions. The vehicle is currently available for pre-order and is set to enter the market in 2023, including a pick-up variant.
The emergence of electric car start-ups is becoming increasingly common worldwide, making a Scottish car manufacturer like Munro Vehicles a rarity. However, Munro Vehicles aims to distinguish itself by creating a unique electric vehicle.
In Scotland, where rugged terrain is abundant, an off-road vehicle serves as more than just a mode of transportation—it is an essential workhorse for farmers. Traditionally, the Land Rover Defender fulfilled this role, but with its discontinuation, Munro Vehicles saw an opportunity to redefine history. The Mark 1 is envisioned as a back-to-basics off-roader with a purely electric drivetrain.
To ensure a solid foundation, the Munro Mark 1 is built on the Ibex F8 ladder frame platform from British manufacturer Foers. This platform is renowned for its exceptional robustness within the off-road community. It features rigid axles, coil springs, differentials, and a transfer case.
Many components are sourced from large-scale manufacturers, enabling straightforward and cost-effective repairs. The built-in electric motor delivers either 220 kW and 600 Nm or 280 kW and 700 Nm of torque, which is continuously distributed to all four wheels through a two-speed gearbox and a lockable differential. Additional differentials on both axles are available as optional extras.
Equipped with an 82.4 kWh battery, the Munro Mark 1 can achieve ranges of up to 275 kilometers. However, for the intended clientele, the more critical aspect is the vehicle's ability to sustain 16 hours of work. Alternatively, a 61 kWh battery can be selected in combination with the smaller motor, providing a range of 204 kilometers.
In both cases, the top speed is limited to approximately 130 km/h. Utilizing a 100 kW fast charger, the Munro can recharge 80 percent of its battery capacity in under 36 minutes. The onboard charger can be set to either 6.6 kW or 22 kW, with the latter enabling a full charge in around three hours, while the former requires approximately nine hours.
Emphasizing utility over comfort, the design of the Munro Mark 1 incorporates a functional box shape with minimal overhangs. Notably, it offers impressive approach and ramp angles of 88 and 70 degrees, respectively, and boasts a ground clearance of 48 centimeters under the body, with 29 centimeters of clearance beneath the axles. The vehicle can navigate water depths of up to 80 centimeters without difficulty.
The flared wheel arches provide ample room for off-road tires, and the four-door cabin accommodates up to five passengers and offers a luggage capacity of up to 1,250 liters. Alternatively, the Munro can carry a ton of payload, and the trunk can accommodate a Euro pallet. Additionally, it has a towing capacity of up to 3.5 tons, with a total train weight of seven tons as specified.
The Munro Mark 1 is available in both a closed-body and pick-up configuration. The pick-up variant features a small loading area and a rear cabin design that slopes steeply. However, aside from these differences, the two body styles share the same specifications.
The interior of the Munro Mark 1 is characterized by simplicity, robustness, and ease of cleaning. Standard features include heated seats and a touchscreen infotainment system with Apple CarPlay and Android Auto, along with six speakers.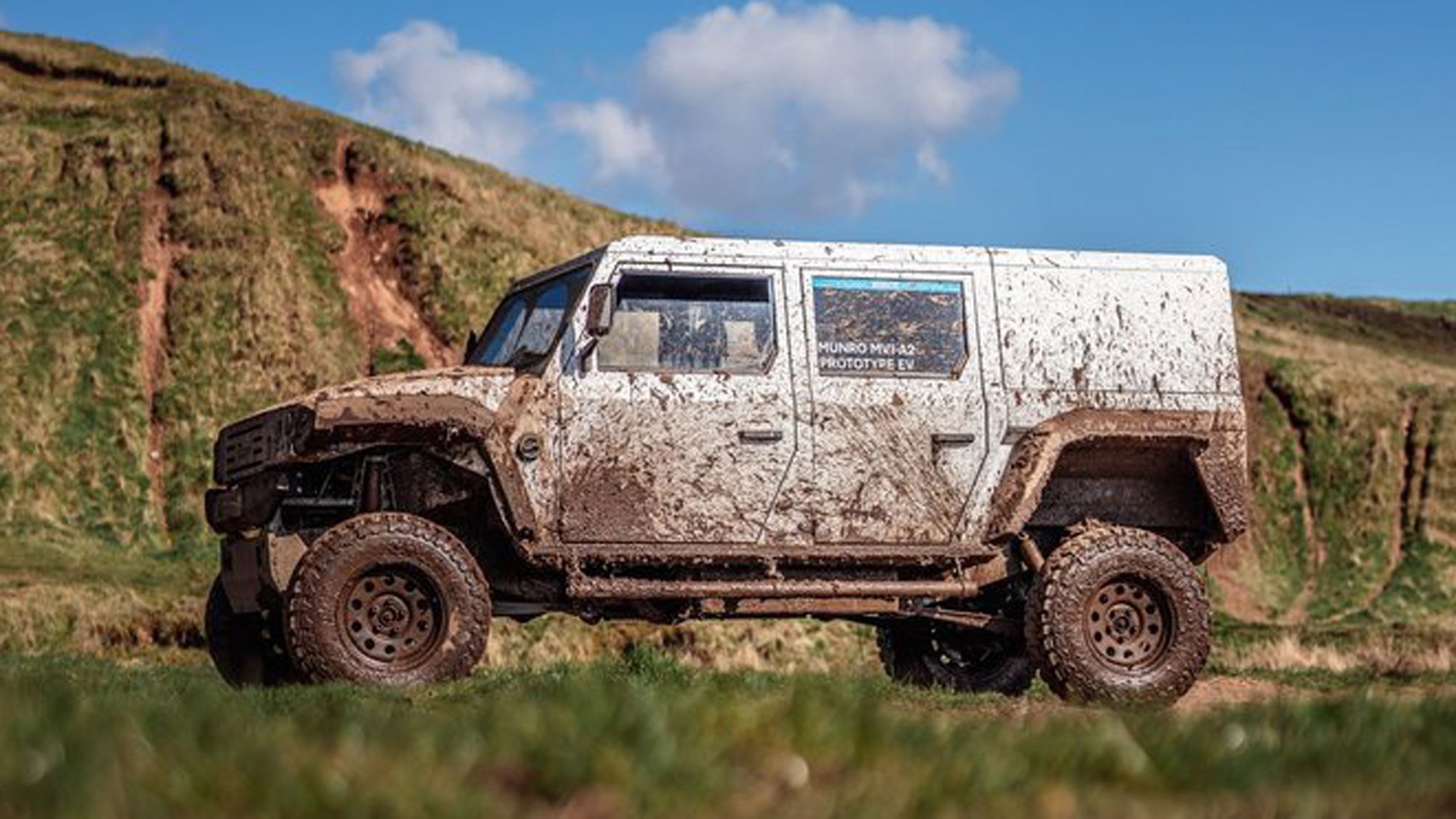 Pre-orders for the closed variant of the Munro Mark 1 have been available since the end of 2022, and the pick-up version will be introduced in summer 2023. Munro Vehicles has set a base price of £49,995 (equivalent to approximately €58,300) plus taxes for both models. The Munro will be manufactured in both right-hand drive and left-hand drive configurations.
The company plans to launch a limited edition of 50 units in 2023, with production expected to increase to 250 vehicles in 2024. To support this growth, a new factory in central Scotland will be acquired, creating 300 new jobs. The company aims to produce 2,500 units by 2027 and reach an annual production capacity of 5,000 vehicles by 2030.
In addition to the domestic market, Munro Vehicles has its sights set on North America, where preliminary contracts have been established with customers from the forestry, mining, agriculture, and oil drilling sectors through leasing provider Wyre.
Overall, Munro Vehicles is developing an electric off-road vehicle, the Mark 1, that prioritizes ruggedness over power and range. It can be ordered in two body styles, a closed SUV and a pick-up with a small loading area, catering to the needs of customers seeking a genuine electric workhorse.