The luxury sector has never been susceptible to fads or crises. In the world of luxury SUVs, the Range Rover is arguably the gold standard. The Range Rover continues to set the benchmark for what a luxury SUV should be after five generations.
Range Rover's most recent model, the P510e, is a plug-in hybrid SUV that blends the best of both worlds. With a strong electric motor and a conventional gas engine, the P510e is a seamless combination of power and efficiency.
Despite the numerous competitors that have entered and exited the market for premium SUVs, Range Rover remains the unchallenged leader. Its progress throughout the years has been remarkable, and the P510e is the most recent illustration of this.
But the history of SUVs predates Range Rover significantly. Europe was in ruins following the end of World War II. Automobile manufacturing was diverted to military activities, leaving the continent in ruins. In the aftermath of this damage, there was a demand for durable, multipurpose vehicles that could aid in the reconstruction of Europe.
During this period, the Willys Jeep and Land Rover were created. These two SUVs were important to the reconstruction effort, and they paved the way for the current SUV market.
As time passed and the waters returned to their original course, there was once again space for luxuries. The Range Rover established itself as the best luxury SUV, a position it has kept for decades.
Today, the Range Rover remains the benchmark for luxury and four-wheel-drive automobiles. Its most recent product, the P510e, demonstrates the company's dedication to innovation and excellence.
The Range Rover P510e is a terrific choice whether you're traversing rugged terrain or simply seeking a nice way to travel around town. It has no intention of relinquishing its position as the top in its category anytime soon.
In a world where fashions and crises come and go, the Range Rover is a symbol of luxury and durability. It continues to push the limits of what a premium SUV can be with the P510e, and it maintains the standard for all others to follow.
The Range Rover, one of the most recognizable and opulent SUVs in the world, is celebrating five decades and five generations of production. The Range Rover has maintained its reputation as a symbol of class and riches, coveted by the rich and famous since its introduction in 1969. Range Rover remains a top choice among luxury SUVs, with Porsche Cayenne, Mercedes GLS, and BMW X7 unable to match its features and capabilities despite the struggles experienced by its parent firm, Jaguar-Land Rover.
As the globe moves toward electrification, the current generation of Range Rovers has adapted, reinforcing its status as one of the world's finest automobiles. Range Rover is renowned for its opulent amenities and 4×4 performance, making it a flexible and capable vehicle for all terrain types. It has demonstrated the ability to adapt to shifting markets and phases, confirming its status as an industry benchmark for luxury and 4×4 vehicles.
Range Rover has been at the forefront of automotive technology and design for its entire existence, constantly expanding and updating its features to fit the needs of its rich clientele. From its debut in 1969 to the present, the Range Rover has continually set the standard for luxury SUVs, securing its position in automotive history.
As Range Rover continues to enjoy its success, it is evident that it will continue to be a highly coveted and esteemed automobile for many years to come. Its blend of luxury, adaptability, and performance distinguishes it in the congested SUV market, and its reputation as a status and wealth symbol is well-earned. Range Rover is a car that emanates class and refinement whether traversing rugged terrain or driving through the city.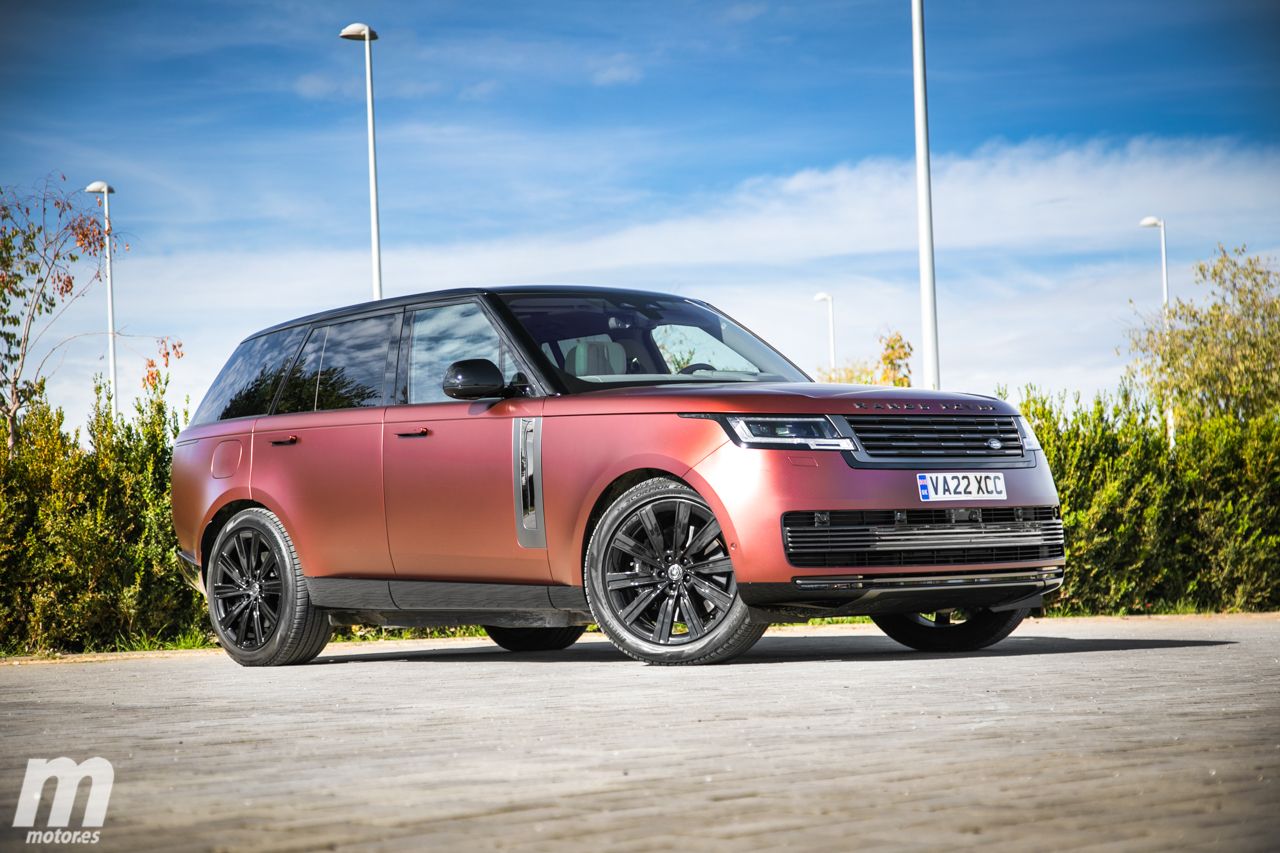 As the world continues to grow and evolve, it is probable that Range Rover will continue to adapt and innovate, strengthening its position as the premier luxury SUV brand. It is a top choice for individuals wanting the utmost in automobile luxury and performance because to its continuing appeal and excellent reputation.
Range Rover has been recognized as the "complete car" or "king of SUVs" for decades, and with good cause. Its combination of quality, comfort, technology, and 4×4 capacity has made it a highly desirable vehicle, particularly among the wealthy and famous. In reality, at its peak, the only comparable models were the Bentley Bentayga and the Rolls-Royce Cullinam, both of which were inspired by the Range Rover's success.
But what distinguishes the Range Rover from its rivals? First, it accomplishes everything correctly. In contrast to other SUVs, which may excel in certain areas but fall short in others, the Range Rover consistently delivers on all fronts. The Range Rover has you covered whether you're traversing rugged terrain or simply cruising along the highway. With features such as a strong Meridian sound system and the ability for a back massage while driving, it's easy to see why it's regarded as the ultimate luxury vehicle.
While the latest Range Rover generation may not have altered considerably from its predecessor, this is not always a negative development. After all, luxury companies such as Rolex and Omega have sold largely unchanged classic items for decades, and they remain the objects of desire for many. The true worth of a Range Rover comes in its package and reputation, not its exterior.
The first Range Rover model was debuted in 1970, beginning a lengthy and prosperous existence. Since then, it has undergone constant development and improvement, solidifying its position as one of the most prestigious and sought-after automobiles on the market. It is a worthy investment for those who can afford it due to its reputation for dependability and durability, and its lavish features and prestige make it a sign of prosperity and social standing.
Regarding SUVs, it is evident that the Range Rover is in a class by itself. Its performance, comfort, and luxury make it the car of choice for people who seek the best. It has a long history of success and a reputation for excellence, so it is not surprising that it is regarded as the king of SUVs.
It should come as no surprise that the Range Rover is regarded as one of the best luxury vehicles available. It has everything a discerning buyer could want, from its understated technology to its impressive off-road capabilities and customizability.
The Range Rover's spacious and comfortable cabin makes it an excellent option for long journeys. In addition to being powerful and capable, it offers a variety of engine options. The interior's opulent materials and meticulous attention to detail contribute to its quality and opulence.
The Range Rover is renowned for its dependability and longevity in addition to its performance and comfort. This, along with the vehicle's desirability, makes it a wise investment for those who can afford it.
Range Rover customization choices are virtually limitless, allowing purchasers to construct a vehicle that suits their style and desires. From exterior hues to interior features, there are numerous alternatives available. For customers desiring even greater customization, the corporation provides an unlimited customization option that will accommodate any request for an extra fee.
Clearly, the Range Rover is much more than a mere luxury vehicle. For those who can afford it, its craftsmanship, attention to detail, and configurable amenities make it a true luxury vehicle that is worth every penny. The Range Rover offers both a spacious and comfortable long-distance car as well as a powerful and capable off-road vehicle.
The Range Rover P510e is a luxury car that offers it's back passengers a high level of comfort. Despite its size, the rear seats may not offer as much space as some would like. However, Land Rover has included a number of opulent features to compensate. For instance, the right rear seat can be converted into a business bench with a massage function and a heated seat. The left rear seat is also comfortable, but it does not possess the same transformative capabilities.
While the Range Rover P510e may not be the first vehicle that comes to mind when you think of off-roading, it is commonly used as a daily driver in cities such as London, Los Angeles, Paris, and Beijing. To avoid issues such as low emission zones and other restrictions, many of its owners are willing to pay the high price tag of 200,000 euros and 510 horsepower.
The Range Rover P510e is capable of handling rough terrain and overcoming obstacles despite its predominantly urban use. It was designed with these capabilities in mind, despite the fact that many of its owners may never use them.
As the world searches for more cost-effective solutions to environmental problems, the Range Rover P510e stands out as a deluxe option for those willing to pay a premium to avoid such constraints. It may not be the most practical option for everyone, but for its intended audience, it provides an unparalleled level of comfort and convenience.
Overall, the Range Rover P510e is a luxury automobile that caters to the wants and needs of its wealthy clientele. Its opulent features and potent engine make it a popular choice among drivers who wish to make a statement. Whether cruising through the city or traversing rough terrain, the Range Rover P510e is an eye-catching vehicle.
The plug-in hybrid Range Rover P510e offers a new level of performance and fuel economy. The P510e is capable of accelerating from 0 to 100 km/h in just 5.5 seconds thanks to its six-cylinder gasoline engine and electric motor. The P510e is a potent and capable vehicle with a maximum speed of 242 km/h.
In addition to its impressive performance, the P510e features a battery with a capacity of 38.2 kWh, of which 31.8 kWh is usable. This permits a certified electric range of 111 kilometers and a fuel consumption of 0.9 liters per 100 kilometers. This makes the P510e an excellent option for people seeking to cut their emissions and, potentially, their fuel expenses.
Charging the P510e is simple, as it can be accomplished using either a conventional household outlet or a quicker charging method. The P510e's hybrid powertrain reduces emissions and improves fuel economy, making it an environmentally friendly option.
The P510e is also equipped with a hybrid mode that enables the vehicle to automatically convert between gasoline and electric power. This allows the vehicle to utilize the advantages of both gasoline and electric power, enabling versatility and perhaps reducing its environmental effect.
In addition to its hybrid mode, the hybrid system of the P510e may recover energy during braking and deceleration and use it to recharge the battery. This extends the electric vehicle's range and increases its overall efficiency.
Overall, the Range Rover P510e is a substantial advance over its predecessor, as it offers enhanced performance, fuel economy, and environmental effect. Its hybrid technology provides for the advantages of both gasoline and electric power, granting versatility and possibly reducing environmental effect.
The Range Rover P510e is an excellent option for people in search of a powerful and fuel-efficient automobile. The P510e has you covered whether you're wanting to cut your emissions or simply want a vehicle that can tackle any terrain.
Why then select the P510e? In the first place, its hybrid technology enables decreased emissions and potentially reduced fuel costs. In hybrid mode, the vehicle can transition between gasoline and electric power as required. With a top speed of 242 km/h and an acceleration time from 0 to 100 km/h of just 5.5 seconds, the P510e is a powerful and capable car.
In conclusion, the Range Rover P510e is an excellent option for people in the market for a powerful and fuel-efficient automobile. Its hybrid technology reduces emissions and enhances fuel economy, making it an environmentally responsible option. The P510e has you covered whether you're wanting to cut your emissions or simply want a vehicle that can tackle any terrain.
Recently, the hybrid technology and excellent performance of the Range Rover P510e have made ripples in the automobile business. With a high-power recharging system capable of fully recharging the battery in just one hour and twenty minutes with a high-power socket or five hours with a 7.4 kW domestic connection, this SUV is a leader in sustainability.
Despite its eco-friendly features, the Range Rover P510e is not immune to the obstacles that all long-distance cars confront. It is known that average fuel consumption exceeds 8 gallons per 100 kilometers, a fact that may be concerning to some buyers. However, for those who can afford this vehicle's opulent price tag, the price of gasoline is probably not a huge problem.
What genuinely distinguishes the Range Rover P510e is the feeling of success and power it gives its drivers. Behind the wheel, one cannot help but feel as if they have achieved success in life. In addition to this confidence-building experience, the vehicle's mobility has been enhanced by the installation of a steerable rear axle. This function is particularly handy in parking garages and other confined areas.
It is essential to remember that the Range Rover P510e is still a huge SUV, as its width exceeds two meters. This site may offer certain difficulties in urban surroundings, but the automobile has otherwise addressed the obstacles that frequently arise when driving in the city.
The Range Rover P510e provides a very sumptuous experience for its occupants. The back seats are roomy and comfy, with a power-folding armrest to aid with relaxation on long trips. Although the overall room in the back may not be remarkable, the quality of the seats and the ride itself more than compensate. In fact, the comfort supplied by this vehicle is claimed to exceed that of the S-Class, an industry standard.
In conclusion, the Range Rover P510e is a hybrid SUV with remarkable recharge capabilities and a forceful, successful driving sensation. Long-distance fuel usage may be an issue, but for those who can afford it, the price is likely not a huge concern. The vehicle has enhanced mobility and is a luxury and comfortable option for passengers. Its size may offer certain difficulties in urban locations, but it is an industry leader overall.
Recent testing has demonstrated that the P510e hybrid is a pleasant and comfortable vehicle. Even though the test vehicle was equipped with enormous 22-inch wheels and Pirelli tires, it produced almost no road noise. When operating in electric mode, the P510e is completely silent and provides a tranquil ride. The suspension system further improves the ride's comfort, creating a "flying carpet" effect. Drivers should exercise caution when accelerating fully, as the vehicle's power may be unexpected. The P510e provides a comfortable and enjoyable driving experience overall.