The Seat Ibiza 1.5 TSI FR, priced at 21,365 euros, is subjected to a consumption test. Despite its compact size, the Seat Ibiza offers several advantages over its competitors. Equipped with a 1.5-liter TSI engine, it performs exceptionally well in various aspects. The vehicle provides ample space for passengers and has a generous cargo area. Its user-friendly interface and well-designed interior contribute to a pleasant driving experience. Additionally, the Seat Ibiza surpasses many rivals in terms of suspension comfort, offering a smooth and controlled ride without sacrificing driving dynamics.
The car exhibits playful handling characteristics, thanks to its precise steering and excellent feedback, instilling confidence in its chassis. The 1.5-liter TSI engine, part of the Group's EA 211 evo engine family, complements the Ibiza's performance. This turbocharged petrol engine delivers power smoothly and quietly, effortlessly propelling the slightly heavy Ibiza. However, the vehicle's fuel consumption, as tested, measured 7.1 liters per 100 kilometers. While this figure is higher than the WLTP standard consumption of 5.6 liters, it remains within acceptable limits.
In terms of fuel and maintenance costs, it is important to note that our test consumption results in fuel expenses of 12.57 euros per 100 kilometers. During our testing, the Seat Ibiza achieved a consumption rate of 5.5 liters on an eco lap and 6.9 liters on the commuter route. When driven more aggressively, the consumption increased to 9.5 liters.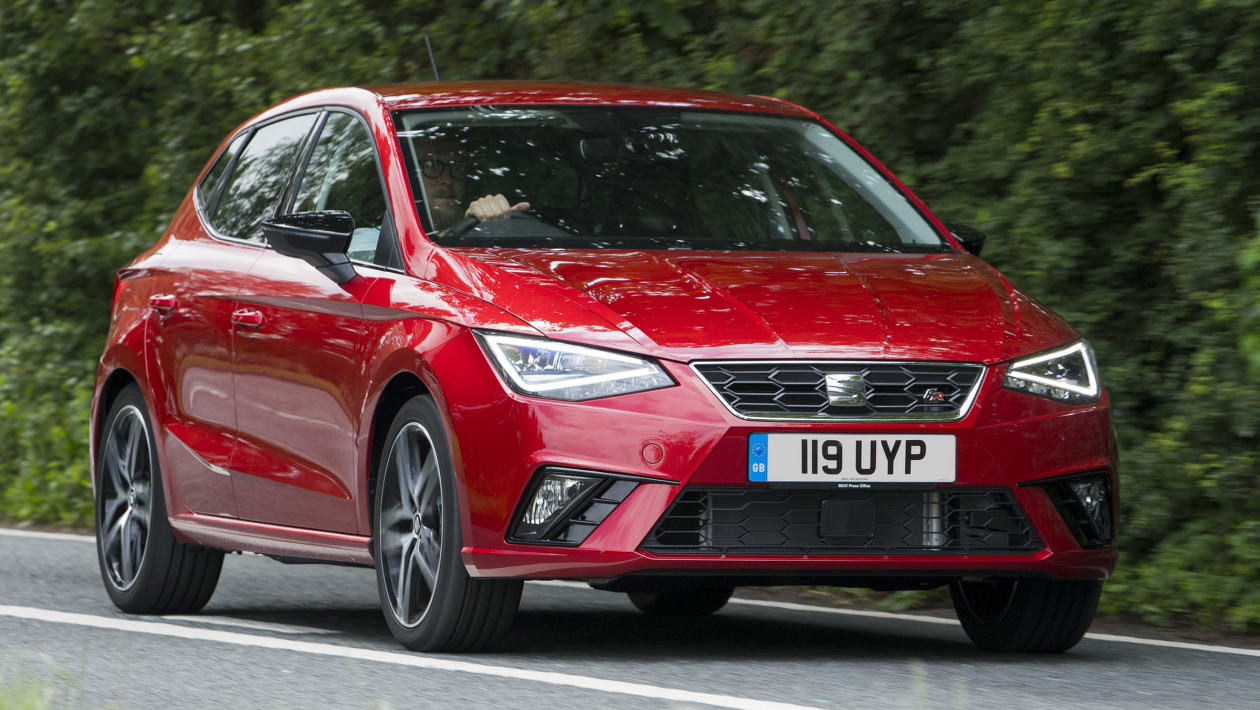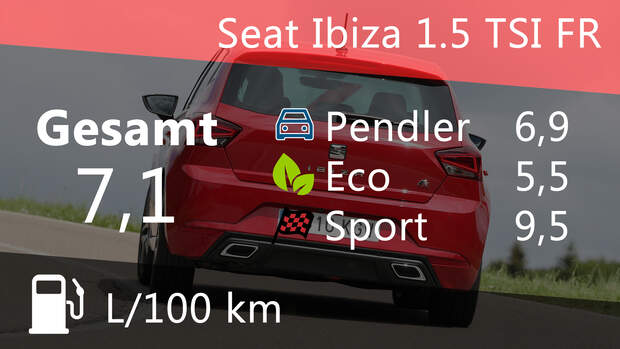 The distribution of test consumption is as follows: 70% comes from the commuter round, while 15% each is attributed to the Eco and Sports categories.
Regarding the monthly maintenance costs, driving in a resource-efficient manner, comparable to our eco-lap, reduces fuel expenses to 9.74 euros for every 100 kilometers traveled. However, adopting a more aggressive driving style results in higher costs, totaling 16.82 euros for the same distance. In addition, the Seat Ibiza, a new vehicle, incurs an annual vehicle tax of 102 euros, and the liability insurance amounts to 383 euros.
Furthermore, opting for partial and fully comprehensive insurance entails additional costs of 166 and 413 euros, respectively. Individuals driving the Seat for 15,000 kilometers annually are responsible for monthly maintenance expenses totaling 235 euros. However, if the mileage is doubled, the total increases to 419 euros. It's important to note that the calculation does not include depreciation or loss in value.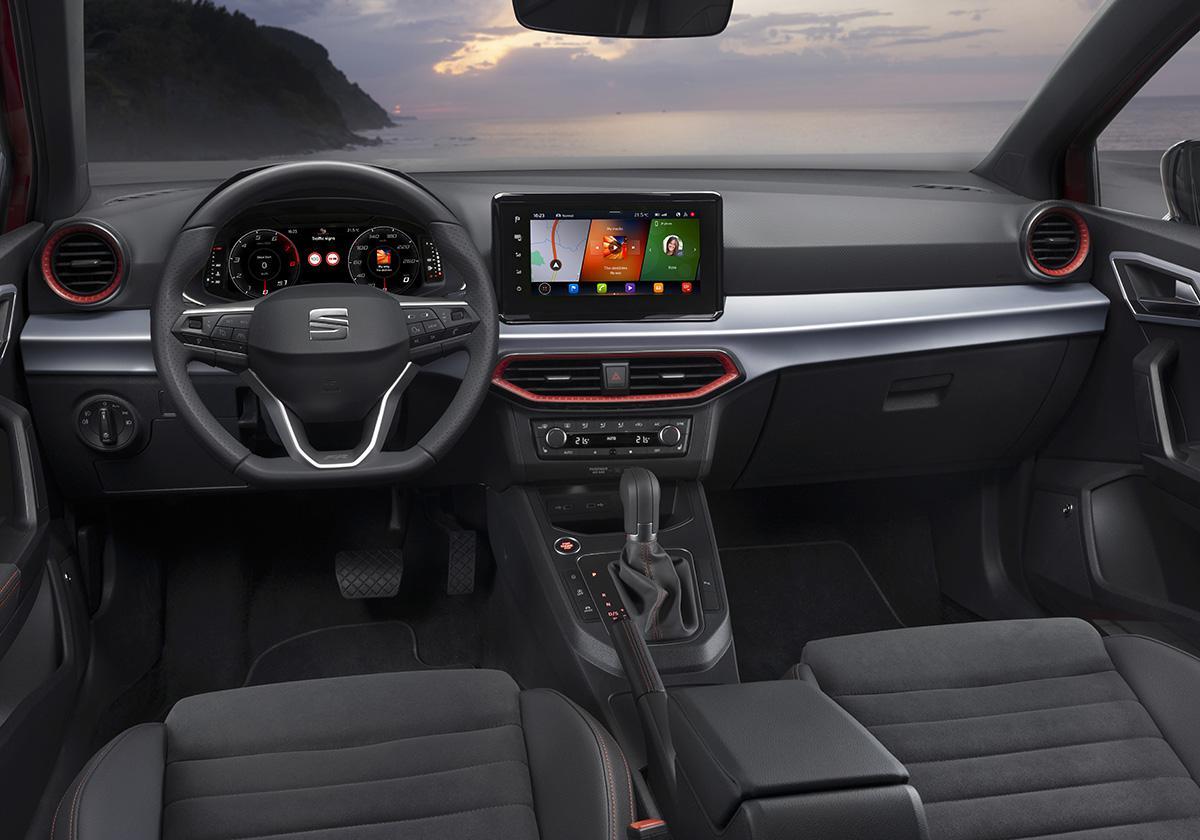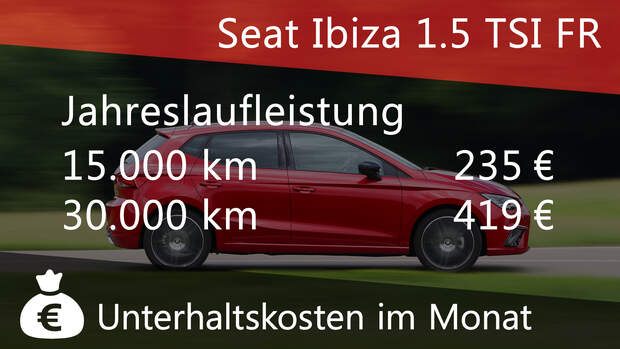 The testing procedure for auto motor und sport magazine's fuel consumption evaluation involves three different consumption runs. These runs are assigned different weights in the overall assessment. The "commuter consumption" run, which represents 70 percent of the evaluation, simulates a typical daily commute of approximately 21 kilometers. A specific "eco-lap" that covers a distance of around 275 kilometers is given a weightage of 15 percent. Lastly, the "sports driver lap," which is similar in length to the eco-lap but includes a greater proportion of highway driving at higher speeds, accounts for the remaining 15 percent.
To calculate the fuel costs, the price listed on the "more taken" portal on the day the article was written is used as a basis.
The monthly maintenance costs take into account expenses related to maintenance, wear parts, and vehicle taxes. These costs are calculated based on an assumed annual mileage of either 15,000 kilometers or 30,000 kilometers, without considering any loss of value.
The calculation incorporates the test consumption results, a three-year ownership period, a no-claims class SF12 for liability insurance, and comprehensive insurance with Allianz. The insurance rates include discounts for parking in a garage and restrictions on certain drivers (not under 21 years of age). Allianz provides a discount rate of 34 percent for liability insurance and 28 percent for comprehensive insurance under the SF12 no-claims class.
In the auto motor und sport test, the Seat Ibiza 1.5 TSI FR with 150 horsepower, priced at 21,365 euros, achieved an average fuel consumption value of 7.1 liters of Super (a type of fuel) per 100 kilometers. This translates to fuel costs of 12.57 euros over this distance. The monthly maintenance costs amount to 235 euros for an annual mileage of 15,000 kilometers or 419 euros for an annual mileage of 30,000 kilometers.
Technical specifications
| | |
| --- | --- |
| | Seat Ibiza 1.5 TSI FR |
| Basic price | €21,365 |
| External dimensions | 4059x1780x1444mm |
| Trunk volume | 355 to 1165L |
| Displacement / engine | 1498 cm³ / 4 cylinder |
| Performance | 110 kW / 150 hp at 5000 rpm |
| Top speed | 215 km/h |
| 0-100km/h | 8.3s |
| Consumption | 4.9L/100km |
| Test consumption | 7.1L/100km |