A project for an orbital solar power plant led by Caltech has achieved its first success: energy has been transferred between photovoltaic cells in space and a terrestrial installation. It's just a start, but promising.
Solar energy faces a problem: energy intermittent. Solar panels and farms mainly work when there is enough sunlight. Scientists have been working for decades on a prototypical solution that is still largely unknown: orbital solar power plants – or space-based solar power (SBSP).
The benefit isn't hard to anticipate, since in this case there would be no more interruption and the Sun's luminosity would be fully increased tenfold (about 10 times higher without our atmosphere). Solar panels – which would take the form of satellites – would capture continuous sunlight. In the United States, a team from Caltech is leading the Space solar energy project. Their prototype, MAPLE (Microwave Array for Power-transfer Low-orbit Experiment), has just achieved a first: the demonstration that wireless transmission of solar energy from space is possible. The advance was detailed by Caltech on June 1, 2023, on his site.
Two LED lights on, a first
The satellite takes the form of a small device – the SSPD-1 – made up of photovoltaic cells intended to capture sunlight and convert it into electrical power.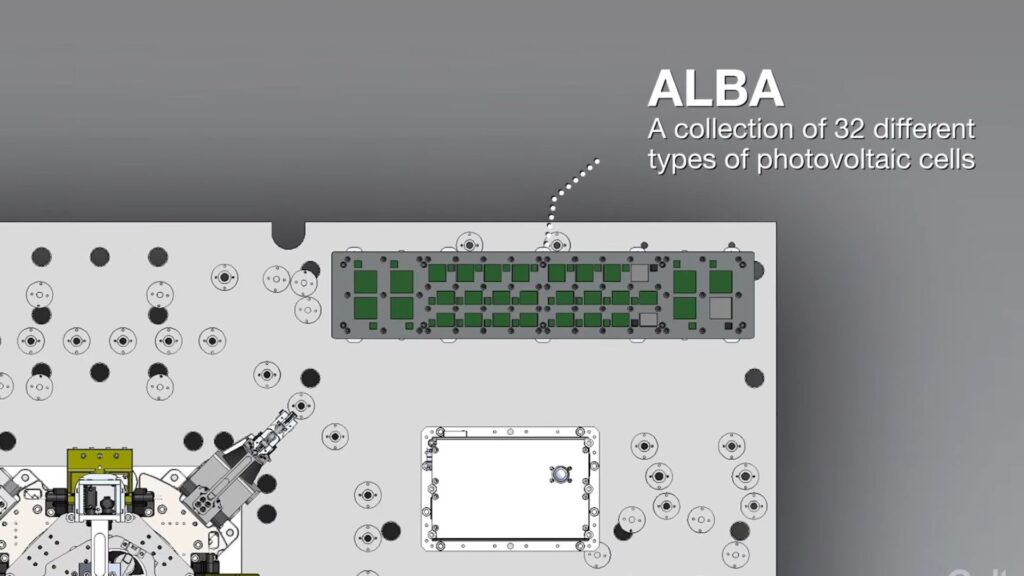 Then, still inside this device, 12 inches away from the "solar panel" itself, we find the key ingredient: MAPLE. This technology is a network of transmitters – electronic silicon chips – that are responsible for converting this energy into microwaves (gigahertz) to send it to distant receivers.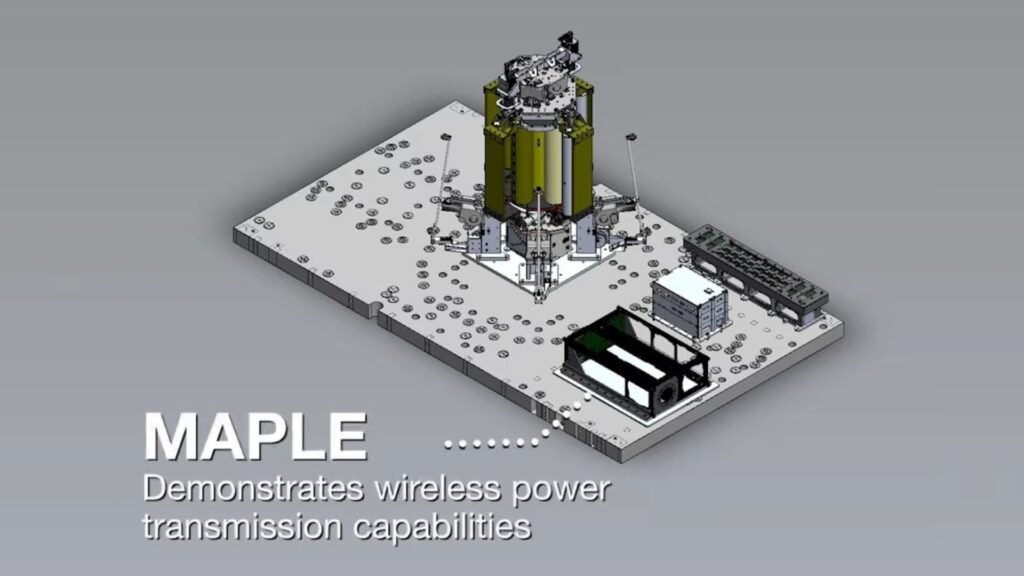 The device contains a round window and electromagnetic confinement waves allow a beam of this energy to be fired at a specific target.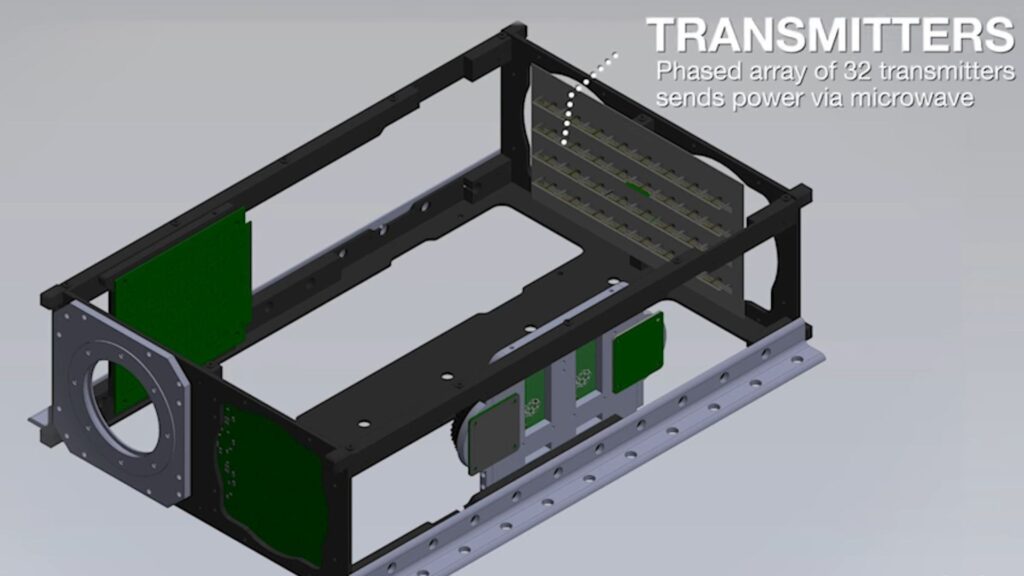 First, the technology was tested on Earth, up close. Then, in early 2023, MAPLE was sent into space aboard a freighter from Momentus space. The craft has been tested to send energy in several directions: into space; and from space to Earth. " The experiments we have performed so far have confirmed to us that MAPLE can successfully transfer energy to receivers in space. ", says the project manager, Ali Hajimiri, on the Caltech website. " We were also able to program the network to send its energy to Earth, which we detected here at Caltech. »
The receivers, installed on the roof of the Caltech lab, were capable of powering a pair of LED lights. " No one had ever demonstrated wireless energy transfer from space, even with expensive, rigid structures. We do this with light and flexible structures and with our own integrated circuits. It's a first », Hajimiri rejoices.
"Always a clean energy source available"
The SSPD-1 measures 1 cubic meter when folded for launch into space. When deployed, it is 50 meters wide on each side. Size and weight are huge challenges for orbital solar energy projects. To produce enough energy, this type of panel must be no less than one kilometer wide in absolute terms. Technology research in the field must therefore manage a heavy issue of space optimization.
" A single solar satellite of the planned scale [1 kilomètre] would produce about 2 gigawatts of energy, the equivalent of a conventional nuclear power plant, capable of powering more than a million homes. It would take more than six million solar panels on the Earth's surface to produce the same amount ", indicates the European Space Agency a page dedicated to this topic.
By finding solutions to reduce launch costs and optimize the ratio between size and electricity obtained on Earth," the end result would be a permanently available source of clean energy ". The energy can even be sent to the moon, for a space station or beyond. The first stone laid by Caltech is certainly only a small beginning, but a promising open door to this future.
For further

" Just as the internet has democratized access to information, we hope that wireless power transmission will democratize access to energy. In any case, projects Hajimiri. According to him, in the future no electricity transmission infrastructure on the ground is needed to receive this power. This means we can send energy to remote regions and areas devastated by war or natural disasters. »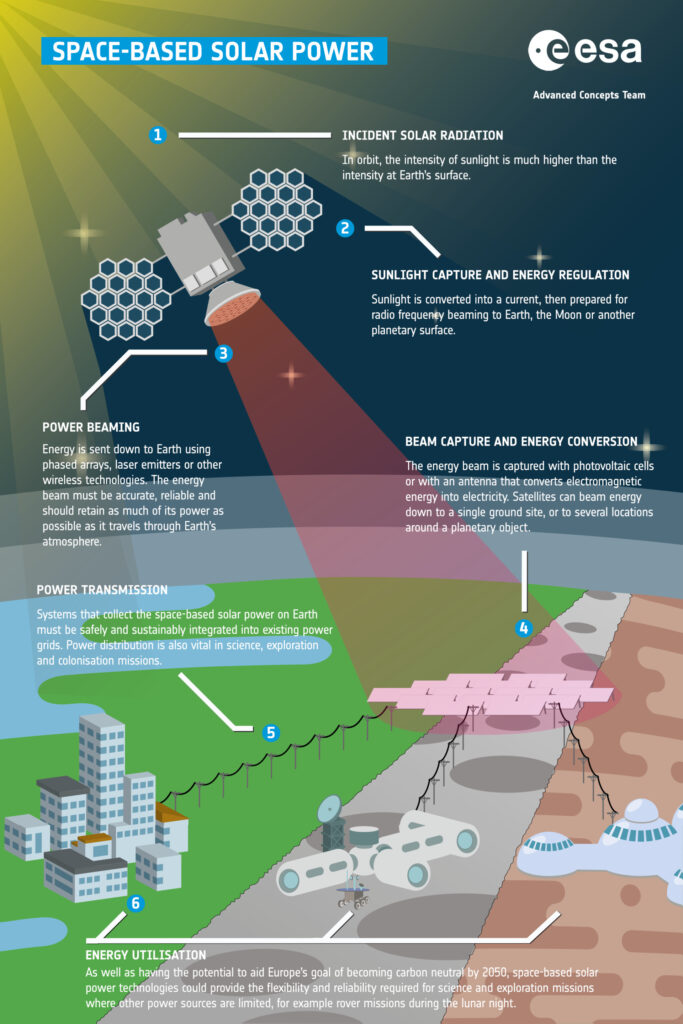 ---
If you liked this article, you'll like the next ones: don't miss them by subscribing to Numerama on Google News.