The passage you provided discusses the performance and characteristics of the Suzuki Ignis, particularly focusing on its hybrid engine and driving experience. The vehicle is equipped with a mildly hybridized four-cylinder engine, which is supported by an integrated belt starter generator powered by a mini battery. This setup allows for fast starting, acceleration support, and energy recuperation when lifting off the gas pedal, resulting in fuel savings and a satisfying driving experience.
However, there are some drawbacks to the mild hybrid system. The brake pedal is soft and lacks a defined pressure point, which can affect braking precision. Additionally, the steering and gearshift are not highly precise, feeling somewhat unresponsive and lacking in feedback.
The vehicle's suspension also has its limitations, as it may transmit bumps to the driver's hands when driving over rough surfaces. Nevertheless, the Suzuki Ignis maintains stability on the road, thanks to its reliable chassis and adequate bump filtering capabilities, despite its short wheelbase and absence of complex damping technology.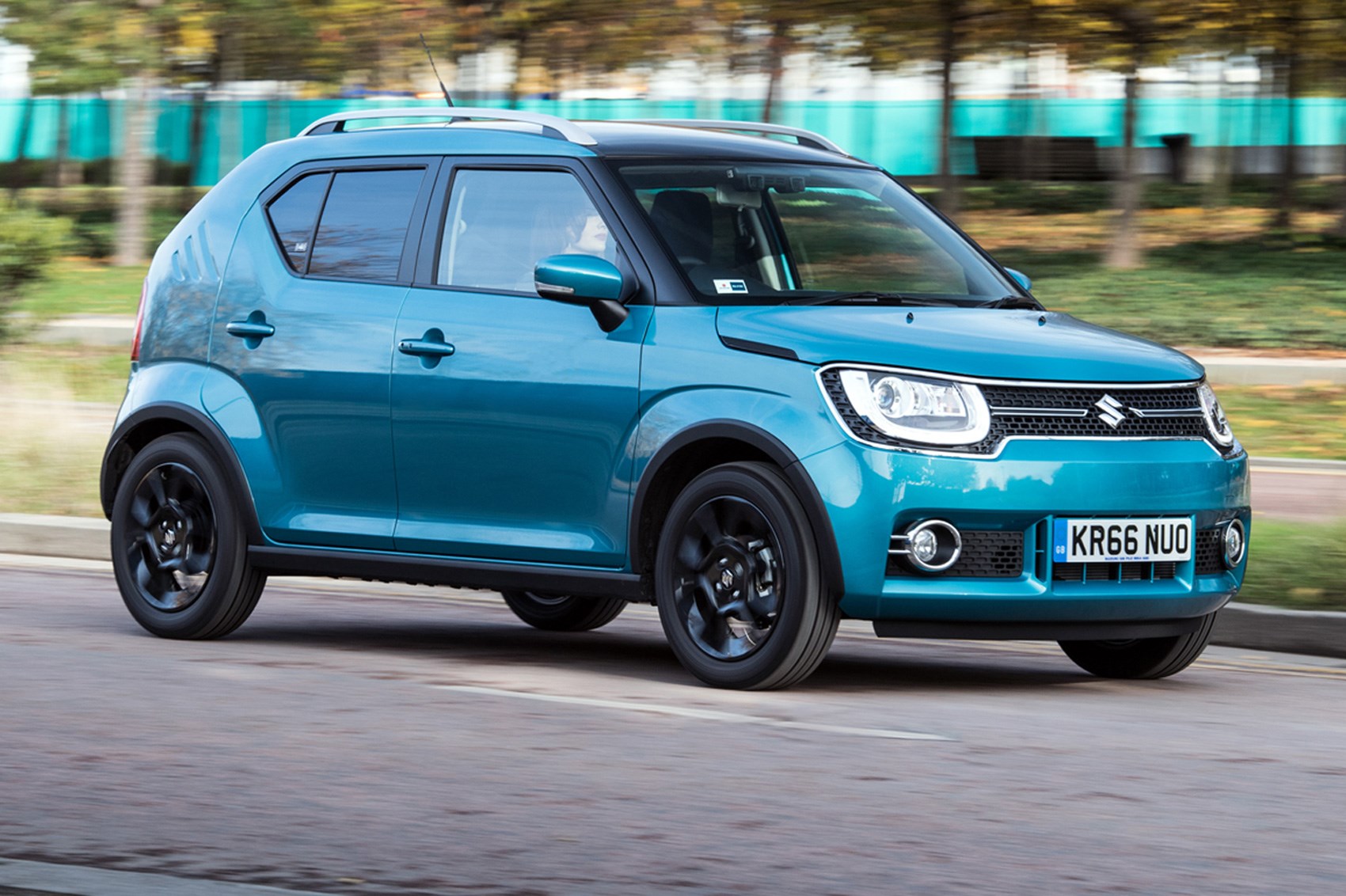 One notable concern is the braking performance, with colleagues reporting braking distances of 41 meters or more during testing, which is considered outdated and potentially unsafe in emergency situations. This can be attributed to both the rear drum brakes and the moderate interaction between the brake system, ABS control electronics, and the Bridgestone Ecopia EP150 tires, which prioritize fuel efficiency over grip.
Regarding fuel and maintenance costs, Suzuki claims a standard consumption of 4.9 liters of Super fuel per 100 kilometers according to the WLTP standard for the 1.2 Dualjet Hybrid Comfort+ model of the Ignis. However, in real-world conditions, the average consumption is measured at 5.6 liters per 100 kilometers, resulting in fuel costs of 10.02 euros for the same distance. On an eco-lap, where the vehicle is driven in a resource-efficient manner, fuel consumption drops to 4.6 liters per 100 kilometers, while a more spirited driving style increases consumption to 7.6 liters per 100 kilometers.
In terms of monthly maintenance costs, driving the Suzuki Ignis in an eco-friendly manner on the eco-lap reduces fuel costs to 8.23 euros per 100 kilometers. However, a more aggressive driving style increases the total to 13.60 euros per 100 kilometers.
Other costs associated with owning the vehicle include an annual vehicle tax of 62 euros, liability insurance costing 401 euros, and additional expenses of 109 euros and 412 euros for partial and fully comprehensive insurance, respectively. The monthly maintenance costs amount to 209 euros for drivers covering 15,000 kilometers per year, but this figure increases to 370 euros for those driving double the mileage. The calculation does not include depreciation or loss in the vehicle's value.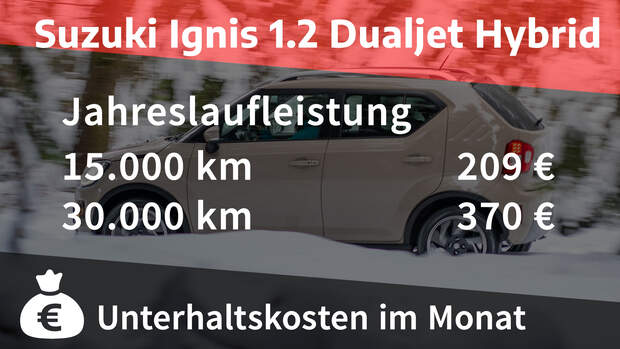 The Suzuki Ignis 1.2 Dualjet Hybrid Comfort+ priced at 20,400 euros is undergoing a consumption test. The test comprises three consumption runs with different weights. The "commuter consumption" contributes 70 percent to the overall test, simulating a typical commute of approximately 21 kilometers.
A fuel-efficient eco-lap spanning approximately 275 kilometers is given a 15 percent weightage. The remaining 15 percent is allocated to the sports driver lap, which has a similar length to the eco-lap but includes a higher proportion of motorway driving with correspondingly higher average speeds. Fuel costs are calculated based on the fuel price listed on the "more taken" portal on the day the article was written.
The monthly maintenance costs include expenses related to regular maintenance, replacement parts, and vehicle taxes. These costs are estimated based on an assumed annual mileage of either 15,000 or 30,000 kilometers, without factoring in any depreciation of the vehicle's value. The calculations are based on the test consumption, a three-year ownership period, a no-claims class SF12 for liability insurance, and comprehensive insurance coverage provided by Allianz.
The insurance premiums take into account discounts for parking the vehicle in a garage and the restriction of coverage to specific drivers (excluding those under 21 years of age). With the SF12 no-claims class, Allianz offers a 34 percent discount for liability insurance and a 28 percent discount for comprehensive insurance.
In the consumption test, the Suzuki Ignis 1.2 Dualjet Hybrid Comfort+ priced at 20,400 euros, equipped with an 83 horsepower engine, achieved average fuel consumption of 5.6 liters of Super per 100 kilometers. This translates to fuel costs of 10.02 euros for the given distance. The monthly maintenance costs are estimated at 209 euros for an annual mileage of 15,000 kilometers or 370 euros for an annual mileage of 30,000 kilometers.
Technical specifications
| | |
| --- | --- |
| | Suzuki Ignis 1.2 Dualjet Hybrid Comfort+ |
| Basic price | €20,400 |
| External dimensions | 3700x1690x1605mm |
| Trunk volume | 260L |
| Displacement / engine | 1197 cm³ / 4 cylinder |
| Performance | 61 kW / 83 hp at 6000 rpm |
| Top speed | 165km/h |
| 0-100km/h | 12.4s |
| Test consumption | 5.6L/100km |